Gareth Bale and Raphael Varane back to give Real Madrid fully fit squad for Fifa Club World Cup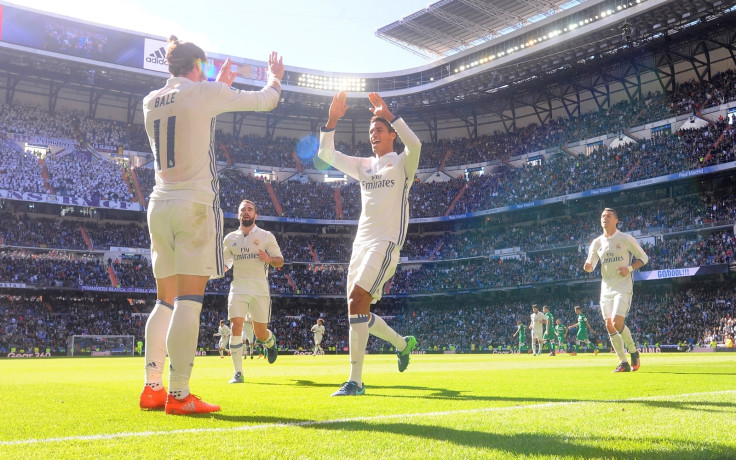 KEY POINTS
Zinedine Zidane refuses to confirm whether the two players will be involved in semi-final against Al Jazira.
The news is also a boost ahead of the coming El Clasico against Barcelona on 23 December.
Gareth Bale and Raphael Varane are fully recovered from their respective injuries, but Zinedine Zidane refused to confirm whether the duo will feature when Real Madrid take on Al Jazira in the semi-final of the Fifa Club World Cup on Wednesday (13 December).
The news is a major boost for the Los Blancos regardless, with Zidane having a fully fit squad for a tournament that comes just prior to the first El Clasico of La Liga against Barcelona on 23 December.
Bale made his return to action from a two-month spell on the sidelines during the Copa del Rey clash with Fuenlabrada on 28 November.
However, the Welshman suffered an injury recurrence in that game, which prevented him from playing in the following matches with Athletic Club Bilbao, Borussia Dortmund and Sevilla.
Varane, meanwhile, was left out of the weekend's 5-0 victory over Sevilla after the Real centre-back was forced off in the first half against Dortmund due to another muscle blow.
Zidane said that both players have shaken off their injury woes, but the Real boss refused to reveal whether they will play against Al Jazira.
"You will see tomorrow what happens [if they play or not]. Both of them have trained well and haven't had any issues. I'm happy to have all of my players available, that's the most important thing for a coach," Zidane said in the press conference ahead of the semi-final.
Gremio will face Pachuca in the other semi-final, with the final and the third/fourth placed playoff on Saturday.
The Fifa disciplinary code states that if any Real player sees a red card in that final game they will have serve the suspension in the following domestic game.
This means that if any player is dismissed in the final or the playoff they will miss the visit of Barcelona to the Santiago Bernabeu.
Zidane expressed his disapproval with the rule, but the Real boss is convinced that his players will stay out of trouble.
"It's something that could happen. They're two different competitions and I think that it's a bit excessive," Zidane said. "However, nothing's going to happen on that front because I'm a positive thinker. We're going to focus on putting in good performances and I believe that everyone will be available for the Barcelona game."
Zidane made it clear that the coming clash against Barcelona won't affect his plans for the Club World Cup with his players fully focused on retaining a title they already conquered in 2014 and 2016.
"We want to give our all to win it. It won't be easy. Tomorrow we've got the semi-final and we'll be trying to get through and then lift the trophy. There's what we've come here to do and we're fully focused on this competition," the Real boss added.
"We know that there's no such thing as an easy game. Our semi-final is against opposition that people say we'll have an easy time against, but we'd be wrong to go into it thinking like that. We're thinking exactly the opposite. When teams come up against Madrid and when there's a trophy at stake, everyone wants to perform. We have to retain out focus and be ready and do what we've been doing well of late."