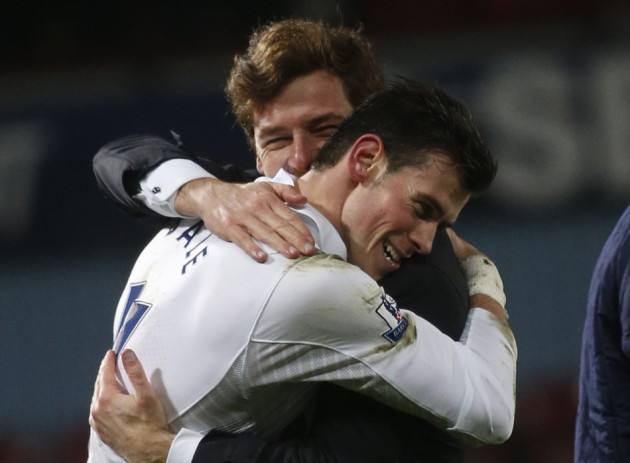 Gareth Bale has provided another indication that he will stay at Tottenham Hotspur next season after praising manager Andre Villas-Boas.
The Welshman has been relentlessly linked with a move to Real Madrid in recent months, speculation recently fuelled by comments from Real's club president Florentino Perez and Bale's agent.
But the 23-year-old envisages a bright future working under Spurs boss Villas-Boas, indicating he is no rush to part ways with a manager who Bale believes has helped him become the player he is today.
"He has helped me in all aspects of my game," Bale told Spurs TV. "In training we have been working on things that I can do in games and in games he has given me the confidence to do what I want and do what I do best, which is a massive thing for a player."
While Bale was already playing an integral role for Spurs in the club's previous two seasons, the 2012/13 campaign saw the former Southampton youngster revolutionise his performances into some of the best the campaign saw.
From scoring nine goals and providing 14 assists, Bale's progression aided by Villas-Boas' tutelage has seen him become a talismanic figure at White Hart Lane, marked by his return of 21 goals and eight assists last season.
Like his teammates around him, Bale puts the advancement down to Villas-Boas.
"Everyone was excited about him coming in," Bale added. "He is a young manager and he has got a great past at Porto. Maybe not so much at Chelsea but given time, like he has been this season, he has shown what a good manager he is. It a very exciting time for the club.
"He has tried his new tactics, his new style of play with us. Sometimes it does take a bit of time just to get used to it, and at the start of the season I think that was a bit difficult. But we adapted and got stronger and stronger."
Despite the suggestions that the Welsh international is set to agree to a new £150,000 week contract at White Hart Lane, a speculative move to Real Madrid still often dominates the headlines.
Tottenham's failure to qualify for the Champions League suggested to many that a summer exit was on the cards, but while admitting his disappointment after being pipped to the post by Arsenal, Bale has suggested he will be around next season to mount another challenge for a spot in Europe's premier competition.
"We fought hard this season, the team and the manager have been great," Bale was quoted as saying in the Guardian last month.
"We have got the record points for the club in the Premier League. That would normally be enough to qualify for the Champions League, but it's not meant to be again. It's disappointing, but we will pick ourselves up again. We will just have to regroup and give it another go."