Gary Neville: Best Players Will Join Manchester United Even if They Don't Hire a Reputed Manager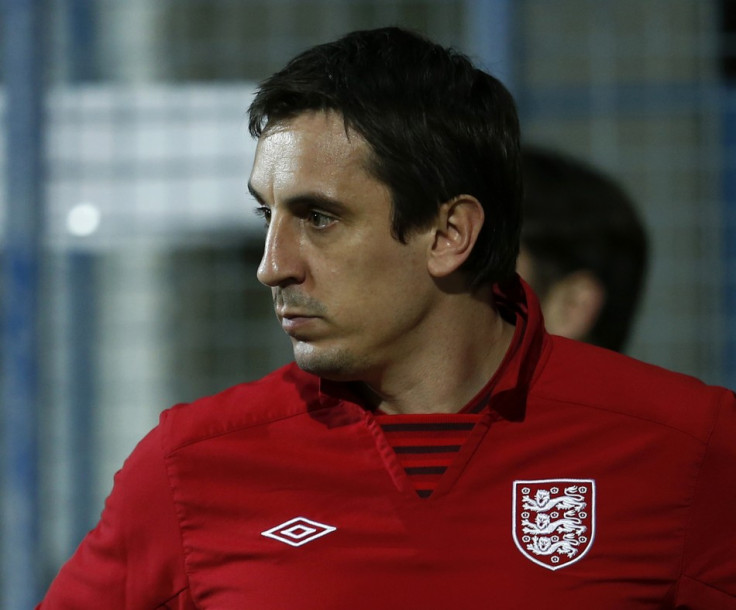 Manchester United legend Gary Neville insists that his former club do not need a reputed manager with a decorated CV to attract the best players in the world.
The outgoing English champions have recently sacked David Moyes and appointed veteran midfielder Ryan Giggs as the interim manager till the end of the current campaign. The likes of Louis Van Gaal, Carlo Ancelotti and Jurgen Klopp have reportedly been linked with taking over the full-time role at Old Trafford before the next season.
Neville, who spent his entire playing career with the Red Devils under former manager Sir Alex Ferguson, believes United are a strong and well-recognised institution in itself. Despite their struggles this campaign, the 39-year-old insists that the club have the potential to attract stellar names in the upcoming transfer window.
"Manchester United, as a football club, is big enough in its own right to be able to attract players - and they should be," Neville told Sky Sports.
"The suggestion that they need a big manager to attract players to the club, I find that a bit sad to be fair. The idea that Manchester United Football Club need to have a sort-of figurehead to be able to attract players is a nonsense as far as I'm concerned."
Under Moyes, United were only able to sign one stellar player in Juan Mata for a club-record fee of £37.1m during the January transfer window. Their pursuit of players like Cesc Fabregas, Ander Herrera and Sami Khedira last summer ended in vain after they failed to negotiate a deal with their respective clubs in La Liga.
United's form this season has been very poor by their usual standards as they are certain to finish outside the Premier League's top four for the first time in 23 years. However, Neville insists that his former employers can return to winning ways if they spend wisely and make quality signings during the summer.
"The reality of it is that it doesn't really matter who the manager is. What matters most to Manchester United fans is that they actually win football matches and get back to where they belong," Neville explained.
"It seems to be pointing in that direction and I suppose at the start of next season, if they can spend the money that they have wisely and there's a new big-name manager then times will be exciting again," the former England international concluded.
© Copyright IBTimes 2023. All rights reserved.