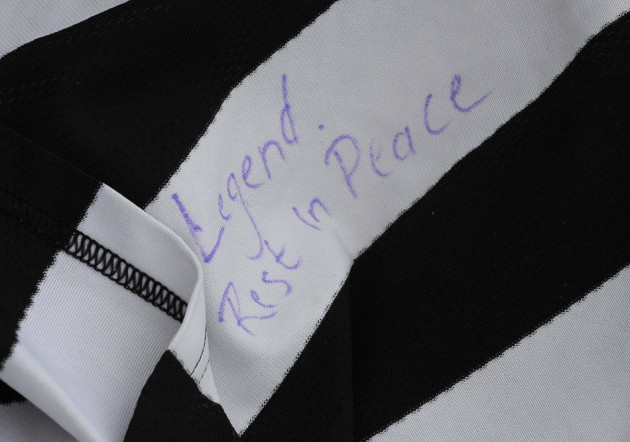 Alan Shearer has revealed he is still "numb" with grief following the sudden death of his close friend Gary Speed.
An emotional Shearer paid tribute to the Wales manager in a raw interview given just twenty-four hours after a death that the sporting world has struggled to comprehend.
Speed was found hanged in his Cheshire home in the early hours of Sunday morning and his death has left Shearer helpless with grief.
"You read about this type of thing in the paper but you never imagine it's going to happen to a friend," the former England international told the Telegraph.
"I've cancelled everything I had on today, even various charity engagements," he said. "Nothing like this has happened to me before. I don't know whether I'm doing the right thing speaking. I don't know what the right or the wrong thing is."
Shearer was one of the last people to see Speed alive when the pair spoke in a BBC TV studio on Saturday afternoon.
"I was laughing and joking with him on Saturday [in a BBC TV studio], as we always do. There was no sign. The last thing I said was, 'See you next weekend'. We were supposed to be going out; to a charity dinner we were attending together."
Shearer, Speed's teammate during their time together at Newcastle United, said he has wrestled with the question of 'why?' his friend felt he had no way out, that this was the only option, since he received the news on Sunday morning.
"That's the question I keep asking myself. Why? Why?" he said. "He was the sort of friend who would confide in you.
"I'd played against him several times but I didn't get to know him until he came to Newcastle. As you go through your career you're bound to make a few enemies, that's the nature of football. But he didn't have any. Nobody said anything bad about him."
Shearer's remarks hit right at the heart of the question that has proved hardest to grasp since the news broke over the weekend: how to square the image of the healthy, family man who had converted a successful playing career into a promising start in management, with the man found hanged in his own home.
"I had a few missed calls, which I thought was strange. It was a mutual friend, and when he told me I said to him, 'Stop messing around. Don't joke about things like this'.
"I keep thinking of Louise [Speed's wife] and the two boys [Edward, 14 and Thomas, 13]: they're the important ones. You can't do anything, you can't say anything. You're just at a loss.
"There are handful of guys who I would trust my life with and he was one of them. I just keep coming up with the same question: why? Why didn't he call me, why didn't he say anything on Saturday, if something was bothering him?"
"This is how important he is. The stupid and sad thing is that he can't see what he meant to people."