Almost exactly a year ago, I booked a trip with some friends to Leeds, planning to take in the sights of the fine northern city for the first time. Having been in England for only eight months, I wanted to see as much of the country as possible, and with free accommodation from a friend on offer, I was only a Megabus ticket away from crossing yet another British city off the list.
But the trip that was supposed to be about sightseeing, Christmas market shopping and a trip to the football turned out to be much more than any of those things. Because in the weeks before I left London, Gary Speed was found hanged in his home on that fateful November night.
The Leeds v Millwall game on December 3rd 2011, which became more about Speed than any of the players on the pitch, is one of the most memorable matches I have ever attended. The Millwall fans wore all black, and stayed silent for the entire game out of respect to the Wales and Leeds legend; a respect that was a brilliant sign of solidarity with fellow supporters suffering from a tragedy bigger than any rivalry.
There were moments solely dedicated to Speed, butt these were barely needed as for the entire 90 minutes everyone in the ground stood and sang for the man they had watched and admired for so long, while his family watched on in the stands.
Afterwards, we went to look at the memorial, and it was a sight I won't forget; the Billy Bremner statue had been dressed in Speed's football top, with flowers, teddy bears, merchandise and cards filled with messages of sorrow lovingly placed around it.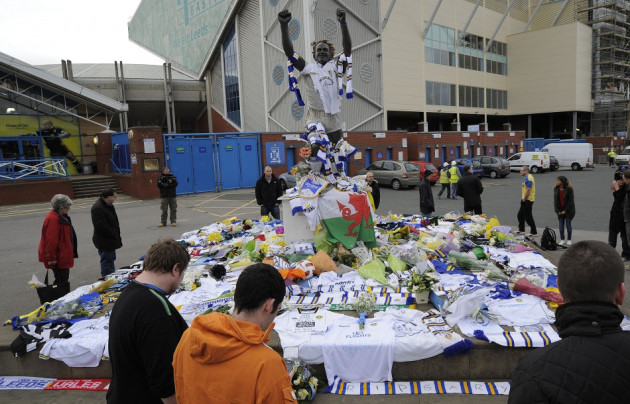 Even the hardest soul couldn't help but shed a tear as fans quietly sang his name in a circle, and a young boy moved to place one of the tops dedicated to Speed in a better position under the statue.
A year on, and though those around Speed and his fans have moved forward but his memory is far from forgotten.
The Wales side that he managed to so much success in life has constantly played in his memory, and new manager Chris Coleman says he won't ever be forgotten for his contributions to the footballing world, as well as for the man he was.
"Forget the football, Gary was a great guy, different class," said Coleman. "I was lucky enough to have known him for a long time. He's greatly missed - I still miss him. I will always miss him.
"I can't believe it's a year ago. You don't ever forget something like that. I will probably never get over it. You try to deal with it as time goes on.
"But you don't forget someone like Gary. We never will.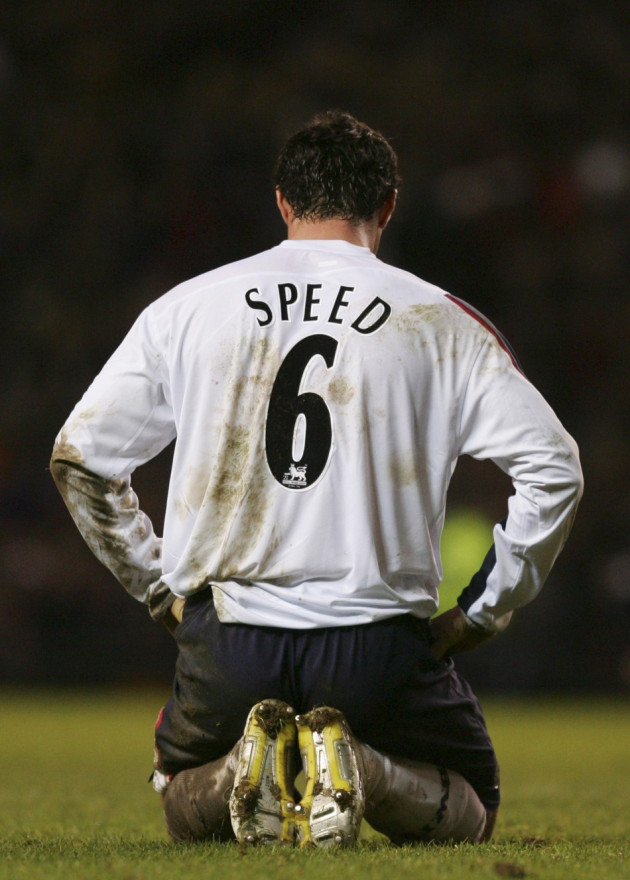 "It will be a difficult day and Christmas will be difficult for his family, but we are all here to support them."
Speed's wife Louise asked for donations for the Sir Bobby Robson Foundation, as well as the John Hartson Foundation, in the wake of his death, and former Arsenal striker said at the time that the contributions of those who loved Speed would only further his support of the charity.
"I am incredibly touched by Louise's calls for people to back my charity," Hartson said. "Gary was always very supportive of the foundation.
"He even played in a charity match to raise money for it on his own birthday as well as running the London marathon in aid of it. That's the kind of man he was.
'It means an awful lot, especially as some of the money from my foundation will go towards the Maggies centre, which is a cause very close to my heart."
Though the finer details of Speed's death will never be known to the public, and might not be known in private, a dialogue about footballers suffering from depression became much more open as people considered it a possibility that the former star was harbouring inner feelings that he felt he couldn't admit to.
Meanwhile, Speed's son Ed is carrying on his father's legacy in many ways, one of which is through representing his country in football.
The 14 year old has featured for the Wales under 16 squad, with manager Osian Roberts saying of the youngster: "Ed reminds me so much of Gary. Hopefully he'll be an outstanding talent."
His other son Tommy is a boxer and footballer as well, with his grandfather describing him as a 'natural' at sports just like his dad.
Numerous teammates and friends have pledged to help others in Speed's memory; the most recent gesture was from former teammate Matt Jones, who will undertake a 24 hour cycling challenge alongside Hartson and Coleman to raise money for charity this week.
While details of that fateful day will remain in fans' memories for their lifetimes, the knowledge that Speed's legacy will live on will no doubt give some comfort, not only to the many who loved him from afar, but for the few privelidged ones who loved him in private as well.