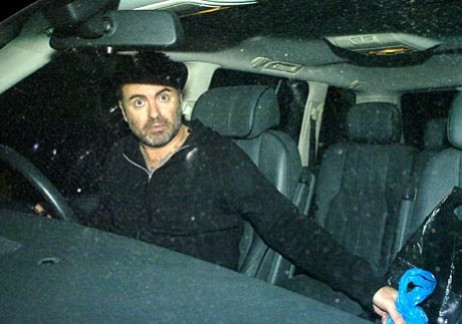 Police investigating George Michael's bizarre motorway accident last week say they are not treating the events as "suspicious" after taking initial witness statements, but warn that that the full details could take weeks to emerge.
Officers from Hertfordshire police were still waiting to interview the singer six days after he apparently fell from the passenger seat of a Range Rover while travelling at 70mph in the fast lane of the M1.
Michael, 49, remains under observation by doctors after being airlifted to hospital suffering head injuries last Thursday.
He was found bloodied and bruised after apparently tumbling from the passenger seat of his Range Rover. Initial reports suggested he lost his balance while attempting to close a door that had failed to lock properly.
Reports have since raised the possibility that the troubled star may have thrown himself from the moving vehicle.
Police confirmed they had spoken to a number of witnesses, including the driver of the Range Rover, another passenger who was in the car with Michael, and another driver, Katherine Fox.
"We are still waiting to speak to Michael, due to his medical condition," said Olivia Finucane of Hertfordshire police. "We have spoken to a number of witnesses, and believe we are in possession of the general facts of the case.
"However, it is likely to be several weeks before we can release further details. At this stage, we do not believe the circumstances were suspicious, but it would be wrong for me to comment further."
The singer's spokesman, Connie Filippello, said he was being kept in hospital as a precaution, but was making "great progress" and "looking forward to going home".
Michael - real name Georgios Panayiotou - suffered "bumps to the head, and bruising", she confirmed.
'Lucky to be alive'
Eyewitness Fox, 23, described swerving to avoid hitting the star as he lay concussed in the road, adding: "George was lucky he didn't die."
She said Michael was "covered in blood" and his clothes torn apart, as he lay on the four-lane stretch of motorway outside St Albans.
The singer's black and gold Adidas tracksuit had been torn to shreds in the fall, while his possessions lay strewn across the carriageway, she said.
"I saw blood everywhere and a man on the ground. I was told he tried to open the car door and shut it again because it wasn't shut properly and apparently fell out at 70mph," said Fox.
"George didn't say anything. He just seemed in shock. He was sitting down against a car and in the arms of his friend. The guy holding him was quite scared. He kept saying to George, 'Are you all right mate?' "
Fox, a nanny, said she retrieved one of his shoes from the road as cars swerved to avoid it, before hearing a crunch as cars drove over his glasses.
She reversed her Mini to protect him from oncoming vehicles. An off-duty policeman began directing traffic around the accident scene until paramedics arrived, she said.
'Very, very difficult to fall'
"I was on the phone to the ambulance and said, 'You'd better come quick. This doesn't look good'," said Fox.
The singer was travelling with two friends when the incident happened. They pulled on to the hard shoulder and ran back across two lanes of traffic to help him.
Experts said it would be "very, very difficult" to fall out of the vehicle, which was travelling at around 70pmh.
Colin Goodwin, of Autocar Magazine, said: "It has a huge side impact bar running through the middle, and electronic motors and ­equipment for the windows and locking system, which means it takes real effort to open it."
Michael's boyfriend, Fadi Fawaz, confirmed the former Wham! star was making good progress. "I've spoken to him and he's good," he said.
It is the singer's eighth car accident since 2004. In 2006, he hit three three parked cars while trying to get out of a parking space, while in 2010 he was handed an eight-week jail sentence after ploughing into a branch of Snappy Snaps photo developers in North London. He was banned from driving for five years and ordered to pay a £1,250 fine.