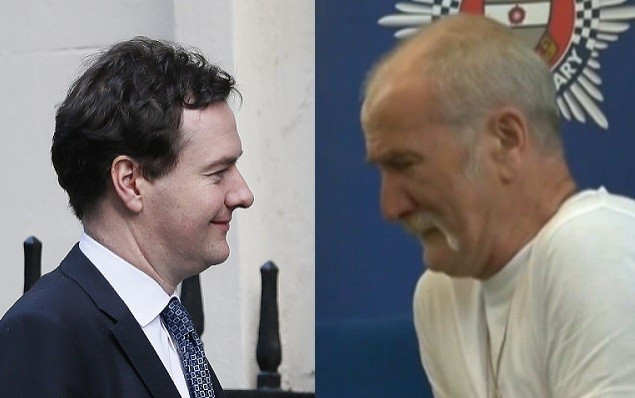 George Osborne has been accused of being "unsophisticated" and "desperate" for using the killing of six children by Mick Philpott to back up the Conservative's views on welfare.
Following the life sentencing of Philpott for the manslaughter of six children in a house fire in Derby, the Chancellor said the case brings up a debate about whether the state should be "subsidising lifestyles like that".
The comments were met with condemnation from opposing political parties, in what is escalating into an ongoing row on welfare reform.
Shadow chancellor Ed Balls referred to Osborne's comments as "a cynical act of a desperate chancellor".
Former Lib Dem minister Sarah Teather said she was "shocked and appalled" at Osborne's "clumsy political arguments."
Philpott, a father of 17, was given a life sentence at Nottingham crown court for the manslaughter of six children in Allington in May 2012. His wife Mairhead and friend Paul Mosley were both given 17 years for the same offence
Following the conviction of Mr Philpott, Osborne said: "Philpott is responsible for these absolutely horrendous crimes and these are crimes that have shocked the nation; the courts are responsible for sentencing him.
"But I think there is a question for government and for society about the welfare state - and the taxpayers who pay for the welfare state - subsidising lifestyles like that, and I think that debate needs to be had."
Philpott was described by the Daily Mail as a "product of the welfare state". He reportedly received around £50,000 a year in child benefit, as well as the income support paid to his wife and mistress Lisa Willis.
At one stage Philpott, his wife and Willis lived in the same home, with 11 children.
Following the comments from Osborne, who has recently been defending cuts to welfare such as housing benefits, Balls wrote in a blog post: "A Chancellor has to think very carefully before they comment on the issues of the day. How they do so says a lot about the character of their Chancellorship.
"That is why I believe George Osborne's calculated decision to use the shocking and vile crimes of Mick Philpott to advance a political argument is the cynical act of a desperate Chancellor.
"George Osborne now needs to explain why he has chosen to comment on this case, and why he has sought to make a link between a terrible crime and the welfare system, when he has said nothing about the financial circumstances of those who commit other terrible crimes."
Teather added: "I am shocked and appalled that George Osborne has stooped so low as to make a crude political point out of the tragic deaths of six young children. It's one thing for a tabloid newspaper to make unsophisticated, clumsy political arguments, quite another for the Chancellor of the Exchequer to join in."
However the comments from Osbrone were supported by some Tory backbenchers. Priti Patel, the MP for Witham, said: "I completely support George Osborne's comments. We are at a stage where society has to look at the way benefits are used and abused.
"The Philpott case typifies that and it is absolutely legitimate to ask these kinds of questions."
Dominic Raab, the MP for Esher and Walton, added: "Nothing can excuse the individual moral and criminal responsibility for this ghastly crime.
"But we would be abdicating our responsibility as a society if we did not look at whether there is some link with the climate of dependency that our bloated welfare system has helped to create."