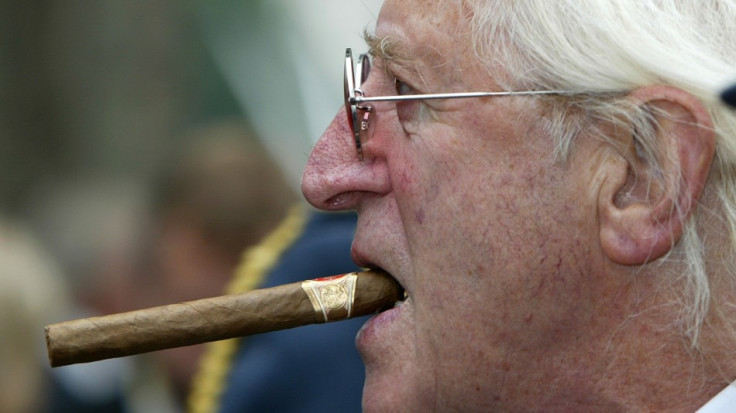 A 40-year-old woman has come forward claiming to be the love child of legendary TV and radio personality Sir Jimmy Savile.
Georgina Ray, from Staffordshire, is so confident that her father was the late "Top of the Pops" and "Jim'll Fix It" presenter that she is willing to have a DNA test to prove it.
Sir Jimmy died in October, aged 84. He was buried in his hometown of Scarborough in a plot overlooking the sea.
Ray, who undoubtedly bears a resemblance to the flamboyant DJ, says Sir Jimmy had a two-week fling with her mother, Christine, in 1970, while she was working as a café waitress.
Sir Jimmy is said to have met Christine, then 19, at a cafe just off the A5 in Cannock, Staffs. Ray was apparently seven years old when she was first told that Sir Jimmy was her father.
But she is adamant that she is not interested in the multi-millionaire's money.
"Georgina is not a gold digger. She just wants closure that the man she has considered to be her father all these years actually is," said friend of Ray, speaking to The Sun.
According to Ray's friend, her mother asked that she made no attempt to contact Sir Jimmy, which she agreed to until she decided to change her life following her divorce two years ago.
"It was a time when Georgina was feeling lonely," the friend told The Sun.
"Finding her father was just something she wanted to do. She wanted the truth to be acknowledged."
Ray made several attempts to try and contact Sir Jimmy, including writing to him and attempting to visit him at his luxury flat in Leeds.
"They spoke on the intercom but Jimmy pretended not to be in and shouted, 'He's away," explained the friend.
"Georgina was upset because he would probably have been able to see her on security CCTV and would have seen how much she resembles him.
"She just wanted him to acknowledge she was his daughter."
Ray is hoping a DNA test can be taken using a strand of hair that was recovered from Sir Jimmy's flat.
The Sun reports that Ray went to go visit the golden coffin of Sir Jimmy when it went on display at a local hotel following his death.