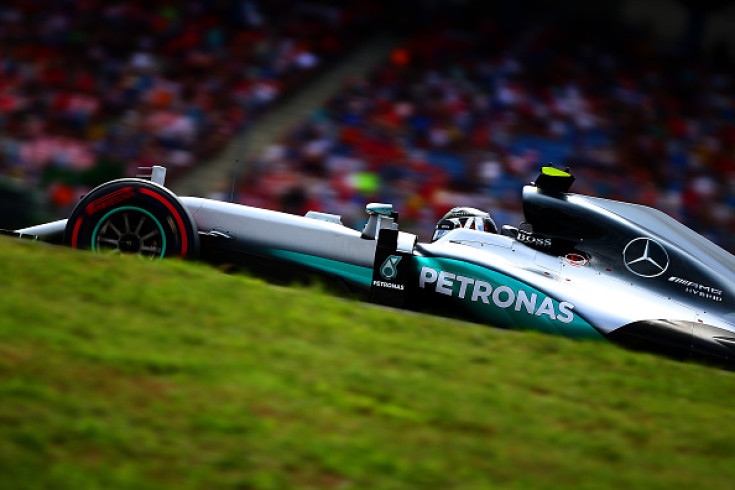 Mercedes driver Nico Rosberg has qualified in pole position for the 2016 German Grand Prix as he looks to go back on top of the Championship, having fallen six points behind teammate Lewis Hamilton at the Hungarian Grand Prix. It was a setback for Rosberg, who had taken a 43-point lead earlier in the season, over his nearest rival Lewis Hamilton. This is Rosberg's 27th career pole and the 51st start from the first row and he will be looking to do better than last week, where he was overtaken by his teammate despite taking the pole position.
The German made his fastest lap in one minute and 14.363 seconds to overpower competition, while Hamilton was behind by less than a tenth of a second. This will be the seventh first row start by Mercedes in the championship and will go into the summer break with a clear lead over nearest rivals Ferrari.
Rosberg had to keep himself to just a single timed lap in Q3 following an electronics issue on his first run, which meant that he had to abort his opening run in his quest for pole position. The German was carrying an extra lap of fuel when he finished the lap as he wanted to be ready in case of a contingency in front of his home crowd.
The two Red Bull drivers, Daniel Ricciardo and Dutch teenager Max Verstappen were third and fourth, respectively, ahead of Kimi Raikonnen's Ferrari. Meanwhile, Sebastian Vettel finished the race on sixth spot.
Niko Hulkenberg of Force India and Valtteri Bottas of Williams were seventh and eighth ahead of Sergio Perez, who was in the second Force India car, while Felipe Massa of Williams finished the top 10 spots. None of the McLarens made it into the top half of racers.
Where to watch live
Race starts at 12.30pm BST on 31 July with Sky Sports F1 and Sky Sports F1 HD providing live TV coverage. Live Radio coverage is available on BBC 5 Live.
Real-time internet updates are available on the Live Timing section of the sport's official website.
Qualifying results from Formula 1 German Grand Prix 2016 at Hockenheim:
1. Nico Rosberg GER Mercedes-Mercedes 1m 14.363s
2. Lewis Hamilton GBR Mercedes-Mercedes 1m 14.470s
3. Daniel Ricciardo AUS Red Bull-TAG 1m 14.726s
4. Max Verstappen NED Red Bull-TAG 1m 14.834s
5. Kimi Raikkonen FIN Ferrari-Ferrari 1m 15.142s
6. Sebastian Vettel GER Ferrari-Ferrari 1m 15.315s
7. Nico Hulkenberg GER Force India-Mercedes 1m 15.510s
8. Valtteri Bottas FIN Williams-Mercedes 1m 15.530s
9. Sergio Perez MEX Force India-Mercedes 1m 15.5372
10. Felipe Massa BRZ Williams-Mercedes 1m 15.615s