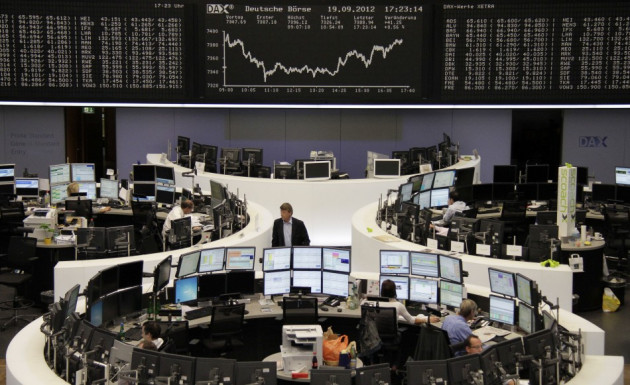 German business confidence fell for a fifth consecutive month in September as company bosses worried that EU leaders had still not yet agreed on long-term solutions for the region's ongoing sovereign debt crisis.
The authoritative IFO Institute's business climate index, a poll of more than 7,000 executives, fell to 101.4 - the lowest reading in nearly two years - from a 102.3 reading in August. The surprise dip extends the index's run of declines from March and matches some of the more optimistic economic data signals coming from the Eurozone in recent weeks.
Perhaps more troublingly, the forward-looking business expectations portion of the IFO survey also slipped to 93.2 from 94.2 last month.
"The ongoing, apparently never ending sovereign debt crisis has cast a pall over the Euro Zone's economic outlook," said Stephen Pope, managing partner at Spotlight Ideas.
"Last week data showed German exports had fallen at the fastest rate in three years, and with the Eurozone sliding daily into a recession the prospect for a near-term bounce in regional trade is non-existent."
"Today's Ifo index shows that German companies remain sceptical about the economic impact of [European Central Bank president] Mario Draghi's magic," ING analyst Carsten Brzeski said.
"Despite fears of a looming Eurozone break-up clearly fading away, German businesses are downscaling their expectations."
The so-called Draghi Effect, the result of the ECB president's verbal intervention into European markets in late July, has had a profound impact on asset prices around the region but has yet to translate to the real economy.
The broadest measure of blue-chip European shares, the FTSE Eurofirst 300, has risen 9.5 percent since Draghi promised to do "whatever it takes" to save the single currency, a pledge he backed up in early September with details of a potentially unlimited amount of bond purchases by the ECB to help lower the borrowing costs of indebted currency partners such as Italy and Spain.
Spanish and Italian stocks have surged 35 percent and 25 percent respectively since Draghi's first reference to the programme, known as Outright Monetary Transactions, or OMTs., during a speech in London on 26 July. Benchmark 10-year borrowing costs have also fallen sharply, with Spain seeing the biggest decline of 2.5 percent.
However, many questions remain as to the overall ability of the programme to have a lasting effect, and the capacity of the squabbling Eurozone members to come to an agreement on how to best use their collective financial and administrative firepower.
Spain has shown reluctance to cede to the central condition that the OMT programme requires: a formal request for full EU and International Monetary Fund support that includes fiscal monitoring. Prime Minister Mariano Rajoy says he won't be rushed into taking such a step - one that would likely cost him his political career - while German finance minister Wolfgang Schaeuble has insisted Spain's previous negotiation of €100bn in bank rescue funds will be enough to solve its myriad financial and political challenges.
Plans to create a single European regulator for the region's banking sector have also run into difficulty, with some leaders, notably in Germany, openly questioning the feasibility of giving the ECB oversight for as many as 7,000 banks and financial institutions.
Meanwhile, France's new President, Francois Hollande, is pushing for the watchdog to be up and running by 1 January. With his own approval ratings in France sliding fast, he may not wish to concede yet another point of political contention to German Chancellor Angela Merkel, whom many believe has yet to warm to the Socialist leader after a warm and co-operative relationship with his predecessor, Nicolas Sarkozy.