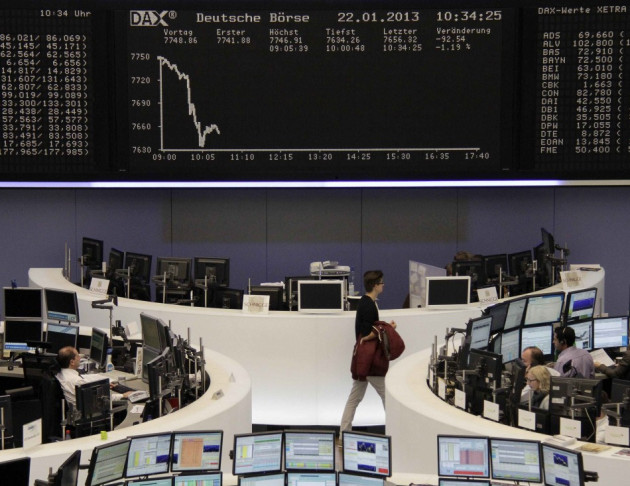 German investor confidence has surged unexpectedly to its highest level for nearly three years in January, indicating increasing optimism on the performance of German financial markets in the coming months.
The ZEW Indicator of Economic Sentiment for Europe's largest economy, a closely watched measure compiled by the ZEW institute, rose by 24.6 points in January to a level of 31.5 points, the highest level since May 2010. It was 6.9 points in December.
Economists were expecting a more modest rise of 12 points.
For the survey, ZEW interviewed analysts and institutional investors about their current assessment of the economic situation in Germany, as well as their outlook for the coming months.
The increase indicates brighter prospects for the German economy on a six months' time horizon, and backs economists' optimism that the markets' uncertainty concerning the future of the eurozone has diminished for the time being.
The single currency rose 0.33 percent against the dollar to $1.3357 following the release of the index.
"The financial market experts seem to expect that the positive sentiment on the financial markets may soon result in companies realizing investments that had been postponed earlier on," ZEW President Wolfgang Franz said in a statement.
Nevertheless, German economy is expected to grow at a moderate pace in 2013 due to weakness in its important trade partners, Franz added.
A sub-index assessing the current economic situation for the country was almost stable in January, showing an increase by 1.4 points to a level of 7.1 points.
Government data earlier indicated that the German economy might have contracted about 0.5 percent in the final quarter of 2012. However, the Bundesbank said recently that the economy is already in the path of recovery.
In addition, the institute found that economic expectations for the eurozone have augmented significantly in January.
The indicator for economic expectations has risen by 23.6 points to 31.2 points, while the indicator for the current economic situation in the eurozone rose by 4.6 points to a level of minus 75.3 points.
The European Central Bank has earlier predicted that the euro-area economy, Germany's biggest export market, will come out of recession later this year.