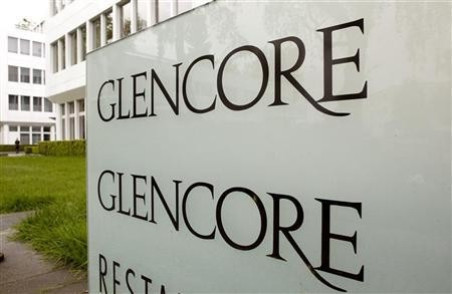 Swiss commodities trading giant Glencore profits fell by more than a quarter on the year as commodity prices plummeted, according to the group's first half results for 2012.
Glencore, which has proposed a merger with mining firm Xstrata, has been hit by the global economy's continued struggle through slowing emerging market growth and an unresolved eurozone crisis.
"We achieved solid underlying profitability in our marketing businesses, with healthy volume growth in key commodities," Ivan Glasenberg, Glencore chief executive, said.
Net profit, excluding one-off items, fell by 26 percent compared with the first half of 2011, to $1.8bn.
Commodities prices have fallen 15 percent across the year as growth in key emerging markets such as India and China slowed markedly.
Eurozone states are still mired in the sovereign debt crisis with no end in sight as the bond markets remain jittery over the stability of the single currency area, with Spain being the most recent country to hold out the begging bowl for a £100bn recapitalisation of its ailing financial sector.
This has helped subdue demand across the world and drag down commodity prices, in turn hurting Glencore's profits.
Its share price had falled 0.11 percent on the day to 353.35 at 10:08am BST.
Glencore has its eye on a merger with miners Xstrata in a deal worth $90bn. The plans are still subject to regulatory and shareholder approval and the firm neglected to divulge details on this in its group statement.
The biggest shareholder in Xstrata is already Glencore, which has a stock holding of around 34 percent.
Qatar Holding, which owns a 12 percent stake in Xstrata, put up a hurdle to the deal in June when it said it wants a ratio of 3.25 shares in any newly formed entity from the merger for every share it currently holds.
This is above the 2.8 ratio Glencore was offering to Xstrata shareholders in its negotiations to get the merger given the green light.
Glencore boss Glasenberg stood firm against the Qataris after his firm's first half results were revealed, hinting that he would drop the deal unless they agreed to his terms.
"We cannot understand the position of the Qataris, asking for more than the 2.8 ratio. We have seen nothing coming out of recent results that supports this, in fact we have seen quite the opposite," Glasenberg told Reuters.
"It is not a must-do deal. It is a deal that we believe makes sense ... but if shareholders have another opinion... it is their choice."