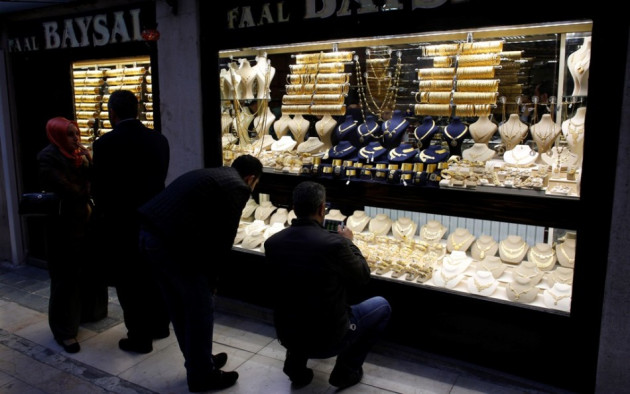 Gold prices are poised to move sideways next week with several analysts saying bearish investors' grip on the market could loosen, fuelling a short-covering rally in the near future, while others are of the view that the overall trend for gold remains lower.
Seven of 19 analysts polled in a Kitco Gold Survey said they expected gold prices to go up. Seven predicted that prices would drop while five forecast prices to remain unchanged.
With the strong US labour market report out of the way, traders will now focus on the US Federal Reserve's December policy meeting.
The US economy is on the recovery path and the Federal Reserve could begin trimming its $85bn-a-month bond buying stimulus later in the month. The Fed's FOMC will announce its monetary policy decision on 18 December.
Any reduction in the Fed's asset buying would boost the US dollar and reduce gold's safe-haven investment allure, eventually pulling down gold prices.
Frank McGhee, head precious metals dealer at Chicago commodities brokerage Alliance Financial, told Reuters: "Now definitely a lot of people are thinking tapering, or even more aggressively tapering could be on the table. The metals are in a state of flux until we have more certainty about what actions the Fed's going to take."
Ken Morrison, founder and editor of online newsletter, Morrison on the Markets, told Kitco: "The past four weeks has been dominated by new short-sellers that forced some longs to flee positions. Combine that with the most bearish sentiment since the mid-October low, I look for gold to have a short-covering rally in its near-term future. I expect a $1,265 upside target during the week ahead."
Kevin Grady, president of Phoenix Futures and Options said: "I think the market will be lower next week. Although we are starting to see strong physical buying out of Southeast Asia, the Middle East and China the ETF (exchange-traded fund) selling that we are also seeing should be enough to offset the demand. The shorts are still in control even though we have seen some vicious short-covering rallies. We are seeing some strong [US] economic data lately and I think that will add to the pressure in gold."
Gold Ends Lower
Spot gold traded flat at $1,225 an ounce on 6 December. Prices were up 0.6% a week ago, ahead of the release of US nonfarm payrolls data.
US gold futures for delivery in February finished $2.90 lower at $1,229.00 an ounce on 6 December.
For the week as a whole, gold futures were down 1.7%.