Thousands, and possibly millions of websites, hosted by GoDaddy.com were taken offline with a single hacker affiliated with Anonymous claiming credit for the disruption.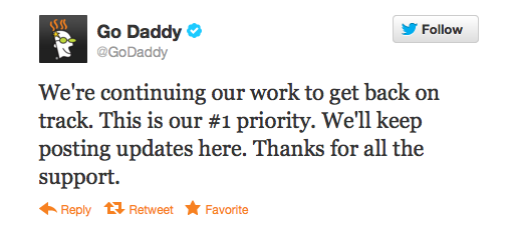 Millions of people, mostly small businesses, host their websites using GoDaddy.com and these were the people affected by the Distributed Denial of Service (DDoS) attack which hit the hosting service's servers today. The attack began just after 6pm this evening, 10 September, according to GoDaddy spokeswoman Elizabeth Driscoll.
Driscoll added the company was still investigating the cause and working to restore service. The latest tweet from he company said: "We're continuing our work to get back on track. This is our #1 priority. We'll keep posting updates here. Thanks for all the support."
GoDaddy claims to have registered more than 52 million websites, and hosts over five million websites, though it is still unclear how many of these sites have been taken offline today - but it is suspected that the majority are affected.
Responsibility for the attack has been claimed by a member of the hacking collective Anonymous known as @AnonymousOwn3r. The hacker's Teitter profile says he is the "security leader of Anonymous." However the hacker was keeen to point out that he acted alone in attacking the GoDaddy servers.
The hacker claimed credit for the attack on Twitter, saying: "Hello GoDaddy.com now yes! all servers #tangodown by @AnonymousOwn3r."
When questioned by GoDaddy users on Twitter for the reason behind the attack, @AnonymousOwn3r was not very clear, though they did mention that they want to test the cyber security of the service as well as other reasons which they would not reveal,
GoDaddy did previously draw the ire of Anonymous because of its support of the controversial Stop Online Piracy Act (SOPA), though it has since changed its position.
Among those sites affected was was fresnodogprints.com which is rn by Kenneth Borg who empatised somewhat with the hacker, but felt they shouldn't have attacked a service which so many small companies relied:
"I'm definitely one for upsetting the establishment in some cases, and I understand that if he's going after GoDaddy, he may have had many reasons for doing that," Borg told Associated Press. "But I don't think he realised that he was affecting so many small businesses, and not just a major company."