The simple act of typing something into Google has led to one man suing the US government for $50 million.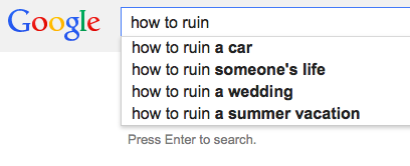 Former US defence contractor Jeffrey Kantor claims that Google's autocomplete function has ruined his life, by triggering a relentless campaign of harassment against him by government investigators, including the use of anti-Semitic remarks.
The ordeal started in 2009 when he was searching online for a present for his son. He intended searching for: "How do I build a radio-controlled airplane?" but Google's autocomplete function kicked in and changed the phrase to "How do I build a radio-controlled bomb?"
Before Kantor noticed the change he pressed enter and triggered a sequence of events that led him to file a lawsuit against a host of federal agencies, seeking $58m (£35m) in damages.
Constant surveillance
Among those Kantor is suing are attorney general Eric Holder, director of National Intelligence James Clapper, CIA director John Brennan, defence secretary Chuck Hagel and secretary of state John Kerry.
Kantor says than since October 2009 he has been under constant surveillance and has been subject to a bizarre harassment campaign which led to him being fired from his job.
Kantor claimed all aspects of his life were monitored, including the books he bought, his home computer and even his car, which had a GPS tracking module attached to it.
Good cop/Bad cop
Kantor was visited at work by government investigators who took a "good cop/bad cop" approach with him, with the "bad cop" making "anti-Semitic comments repeatedly over the course of five months."
The investigators monitored all of Kantor's movements and activity, according to the complaint, and that co-workers would "repeat back Kantor's private information, including emails, websites he went to, library books he got from the library."
Kantor's complaint read:
"If Kantor ever got angry after his private information was repeated back (by slamming a cabinet or typing loudly on his computer), the [subcontractor] CRGT and Northrop Grumman employees would tell the same story about how there was a neighbour in their community who seemed like such a nice guy, but then went on a murder suicide."
Damages
When Mr Kantor was fired from his job at defence contractor Appian Corporation, he claims the harassment continued even after he got a job with another contractor and was assigned to work with government departments.
Kantor is seeking $13.8m in compensatory damages and $45m in punitive damages, and an injunction ordering the government to stop stalking him.