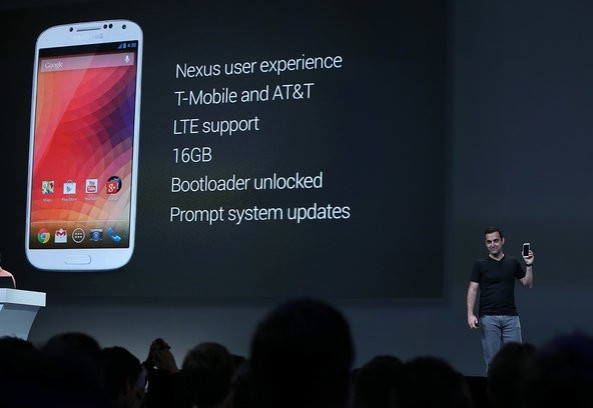 Google is in the spotlight yet again, as it has revealed a brand new custom Galaxy S4 on the first day of its annual I/O conference at the Moscone Centre in San Francisco. In addition to announcing new music and game services for Google Play, Google unveiled its own custom built Galaxy S4, which offers pure Android experience like its Nexus devices.
Google's custom variant of Galaxy S4 will reportedly come fully unlocked (SIM Free) with stock version of Android 4.2 Jelly Bean onboard. As TechRadar notes, the complex additional features introduced by Samsung such as Air Gestures, Smart Scroll and native TouchWiz UI will make way for core Nexus experience provided by stock Android 4.2 without altering the phone's hardware.
Google's custom S4 is also expected to feature a fully unlocked bootloader that enables modders and developers to easily add core customisations to the software. Besides, the Android 4.3 debut is widely expected at this week's Google I/O event that could further strengthen the cause for an open system.
Though Hugo Barra, Google vice-president of product management for Android, revealed no name for the custom S4, he hinted at delivering a pure Nexus experience for the user. However, at this point it is still not clear if the smartphone would ship with Android 4.2 or the latest version of Android 4.3 at the time of its release.
As TechSpot notes, similar efforts that removed carrier subsidies in the past did not fare well with Google Play, and according to analyst Jan Dawson from Ovum, the company might just be marketing the device to silence critics who claim lack of good features (such as good camera or 4G LTE capabilities) on its Nexus devices.
The handset is expected to go on sale via Google Play starting 26 June in the US for $649 or £427 without contractual obligations. The phones are expected to go live for AT&T and T-Mobile carriers in 16GB variant.
Though there is still no word on the device's global availability from Google, it is likely that other countries will soon follow.