At its I/O conference in San Francisco, Google has announced an update to the Google+ social network, making it possible to have your photographs automatically edited and improved as you upload them.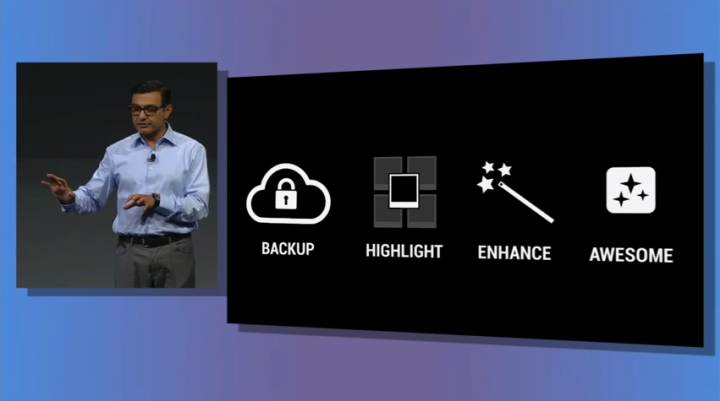 Firstly, using a feature called Auto Highlight the updated Google+ will sift through your photo albums to automatically select your best pictures. Photos that are blurred, badly exposed or duplicated will be ignored by Google+, which narrow down your albums to only the best quality pictures.
It also has an "affinity" search parameter which identifies pictures featuring people you often photograph. If you don't want Google+ to select pictures for you, the auto-select process can be turned off.
Another new photo editing feature introduced was Auto Enhance which automatically touches up and refines your photographs. Using advanced facial recognition software, Auto Enhance can identify things like spots and stubble and effectively airbrush them out for you. Again, you can disable Auto Enhance if you like, or use functions like skin softening, which removes wrinkles and blemishes, manually.
A final addition to the Google+ photo suite will be Auto Awesome. Demonstrated on stage at Google I/O, it can take a batch of photographs captured in the same place at around the same time and automatically turn them into an animated GIF. It can also combine a series of photographs taken of a group of people to make a single picture, so if you take several photographs of a night out with your friends, Auto Awesome will detect in each whether everyone is smiling or looking their best, and create one "awesome" image using the best pictures.
Google is attempting to carve a place for itself alongside other photo editing and sharing services such as Instagram and Facebook. As well as the new photo editing features, it is also offering unlimited uploads to Google+ of images under 2048-pixels wide and 15 GB of free cloud storage for images above that.
All of these new features have been made immediately available.
Must Read:
Google Play Music All Access Rivals Spotify in Music Subscription Market
Google Play Game Services Bring iOS Game Center Rival to Android
Google Hangouts Takes on BBM and WhatsApp With Free Cross-Platform Messaging