Google is set to launch the Nexus 7 tablet at its developer conference this week, with prices beginning at under $200.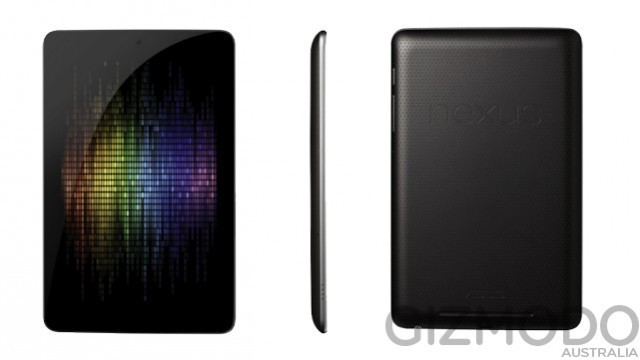 (Supposed) Key Features:
7in IPS display
Tegra 3 chip, 1GB RAM
8GB or 16GB of storage
Android 4.1 (Jelly Bean)
Price: 8GB - $199; 16GB - $249
According to a leaked training document obtained by Gizmodo Australia, the Google Nexus 7 tablet will be announced at Google I/O, the company's annual developer conference taking place in San Francisco this week.
The Nexus 7 tablet has been rumoured for a long time and the leaked training document seems to confirm a lot of previous speculation. As with all leaks of this nature of course, we need to take them with a pinch of salt, until the official announcement due on Wednesday.
The Nexus 7 is set to feature a 7in IPS display with a resolution of 1200 x 800, with 178 degree viewing angles. It will be powered by an Nvidia Tegra 3 chip, featuring a 1.3GHz quad-core processor paired with a GeForce 12-core GPU and 1GB of RAM.
It will also feature a 1.2 megapixel front-facing camera, NFC, Google Wallet (though only in the US initially) and Android Beam, which lets users share content across compatible devices. The tablet, as suspected will be manufactured by Asus.
Android 4.1 (Jelly Bean)
The tablet is also expected to be the first device to launch with the latest version of Google's operating system, Android 4.1, codenamed Jelly Bean.
One of the most intriguing aspects of the training document suggests that software updates will be centralised by Google from now on, which would help address the issue of fragmentation which sees manufacturers and carriers adapt the software first before pushing it out to customers.
The training document only mentioned US pricing, with an 8GB model costing $199 and a 16GB model costing $249. This would put the Nexus 7 firmly in competition with Amazon's Kindle Fire at the lower end of the market rather than the iPad at the more premium end of the scale.
No pricing for regions other than the US were mentioned in the document, which could suggest that we may be waiting for the Nexus 7 to arrive in Europe, in a similar way to the Kindle Fire, though Amazon's 7in tablet could be arriving in the UK this summer.
We have seen previous leaked images of the Nexus 7 which suggested that it would look like an oversized Galaxy S3, but the images leaked to Gizmodo, make the tablet look more like a Galaxy Nexus.
Google has previously partnered with hardware manufacturers to produce reference devices for its software, including the Nexus One, Nexus S and Galaxy Nexus.
Reference models
Google's reason for producing these devices is to show off what the latest version of Android can do, giving users a pure Android experience rather than having a skinned version of the operating system.
Microsoft announced its own Surface tablets last week with some commentators suggesting it was producing them as a way of showing off Windows 8 rather than an attempt to crack the tablet market.
We will be covering Google I/O in details when it begins on Wednesday, 27 June when we expect to see the Nexus 7 tablet officially announced as well as more details on Android 4.1 (Jelly Bean).