Google's newest and popular Nexus 7 has been in users' hands for the last few of days, but users seem to face certain issues. Users have been reporting about the device's screen separation problem: the screen pops up from the body and pushes it back, causing a crack on the screen. XDA members have found a fix for this. Reports have surfaced that the tablet's display is showing up deal pixels. Check out the roundup of issues faced by Nexus 7 users that have been reported online:
Backlight Bleeding
Apart from display, the tablet appears to face backlight bleeding problem. PocketNow has spotted a Twitter report that shows up a photo of the Nexus 7's backlight bleeding. The surface of an LCD panel is backlit from behind through a light source; in addition the LCD will block the light that is not required to display any particular image. "Backlight bleeding occurs when this light is not 100% blocked, allowing excess light to "bleed" through the LCD," explains PC Hardware Help. Hence, users will be able to notice spots of lighter areas on a darker background.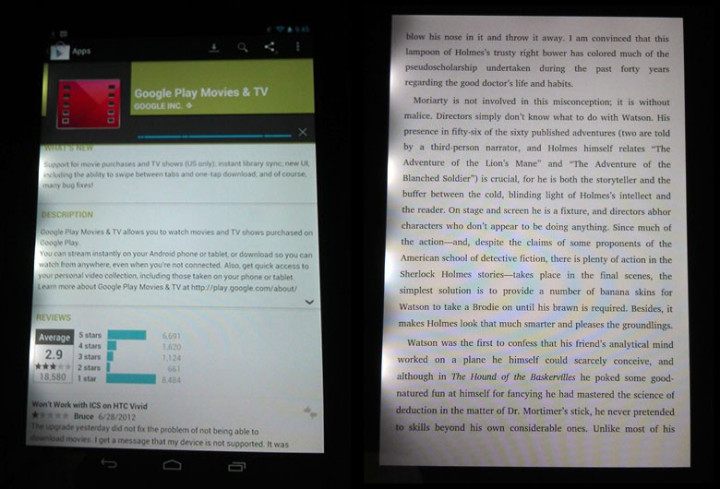 Charging issue
An XDA senior member thevuman claims that initially it took seven hours to fully charge the device. But some users are reporting that their device is not charging. An XDA senior member poldie has posted on the forum: "My Nexus 7 won't charge. I've tried 3 chargers, including the provided one, all of which work on several phones, but none work on the Nexus 7. And it's been a tedious few hours in a queue on the phone trying to get hold of anything to even start the returns process. I can only assume the stories you see when you google 'nexus 7 fault' are true and that many, many people are queuing up to get their faulty unit refunded or replaced. It's a shame - I've played with a working one and it's very nice."
Microphone not working
It seems some users are facing an issue with the tablet's microphone. XDA member Waitzar has posted about the microphone issue on the xda-developers forum claiming: "I got my pre-ordered Nexus 7 16GB (from Staples) on 7/16 and everything worked fine until today. I just tried Google Now and it is not picking my voice. So I went to Evernote to record Voice memo and it is not picking up anything either. I did Factory reset and not solving my mic issue. I think the mic in my Nexus 7 died? Anyone else got mic issue?"
Users who have got the device through Google, "representatives say the mic is defective and have sent replacements," according to The Atlantic Wire.
Touchscreen issues
A video on the geek.com shows the device's touchscreen defect. "Touching the right side (when held in portrait) of the screen sometimes elicits no response from the tablet," writes Ryan Whitwam Geek author. Whitwam claims that sometimes the device detects the touch, while it loses connection rapidly and thereby touch point is lost. "The poor touch detection seems to extend to every part of the UI when it happens," adds Whitwam.
Check out the video below, courtesy of geek.com