At its annual Google I/O developer conference in San Francisco, Google has announced an all-access music subscription service to rival Spotify.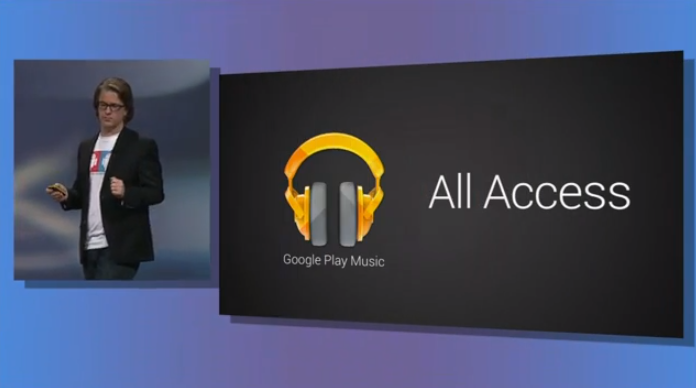 Called Play Music All Access, the service works on Android smartphones and tablet as well as in the desktop browser. The app lets you explore millions of tracks, offers Google-powered recommendations and blends your personal library of purchased music with Google's own catalogue.
Built on top of Google's pre-existing music player, All Access launches immediately in the US and is priced at $9.99 (£6.59) a month, although customers who sign up before 30 June get a $2 discount; there's also a 30 day free trial for all new users.
At $9.99, Google is pricing its music streaming service at the same price as Spotify Premium, although Spotify Unlimited is cheaper, at $4.99 per month.
Sadly, Google said All Access is US-only for now, but confirmed the service will be branching out to other countries soon.
Google's Chris Yerga said: "Why is it that managing my queue feels like a chore? Music unites us, it's universal. We set out to build a music service that didn't just give you access to a world of music, but helped to guide you through it."
The service suggests tracks based on your personal preferences, current collection and what you listen to most often. If you don't like a song it can be swiped away, and doing so will help to refine All Access's future offerings.
The announcement follows rumours earlier this week that Google had signed deals with Universal Music Group and Sony Music Entertainment.
Other than "millions" Google is yet to say exactly how many tracks will be available through All Access.
During its three-hour I/O keynote, Google also announced gaming features for Android similar to those offered by Apple's iOS Game Center, with leaderboards and the ability to play against friends.
Must Read:
Google Play Music All Access Rivals Spotify in Music Subscription Market
Google Play Game Services Bring iOS Game Center Rival to Android
Google Hangouts Takes on BBM and WhatsApp With Free Cross-Platform Messaging