Google has updated its Chromebook range of laptops and has added a desktop computer called the Chromebox.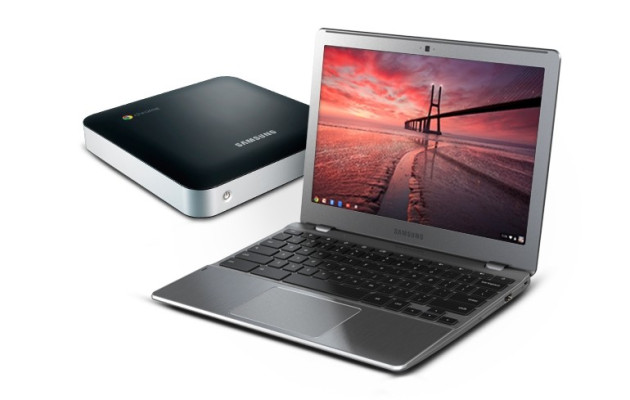 Developed with hardware manufacturer Samsung, Chromebook and Chromebox computers use an internet connection to access software online rather than having large hard drives with lots of applications installed. The technology is often referred to as 'thin client'.
The devices include just 16GB of Flash memory and require an internet connection to run software.
Google has added features to allow documents to be edited offline and will release an update next month that saves data to the device from web apps so they can be used when there is no internet connection available.
Launching the range, Google promised "new hardware, a major software update and many more robust apps".
Both machines use an Intel processor, although neither computer lists the speed of the chip. Google claims the updated laptop runs two-and-half times faster than previous Chromebooks and offers higher-definition video.
The Samsung Chromebox Series 5 550 includes 4GB RAM, six USB 2.0 ports, two DisplayPort++ connections that are compatible with HDMI, DVI, VGA and a DVI output.
Wireless options include WiFi 802.11 a/b/g/n and Bluetooth 3.0, with a Gigabit Ethernet port for wired connection.
Meanwhile, the updated Chromebook has a 12.1in screen with a resolution of 1,280 x 800 pixels, 4GB RAM, two USB 2.0 ports; a four-in-one memory card reader and a HD camera.
Connections are made using WiFi 802.11 a/b/g/n, a Gigabit Ethernet port or an optional 3G modem. There's no listed Bluetooth connection, though.
The 1.48kg laptop has six hours battery life and six and a half days stand-by, according to Google.
The Samsung Chromebox Series 5 550 computer costs £279, while the Chromebook Series 5 550 laptop is priced at £379.
Whether that price will be too much to entice a consumer audience which has embraced tablets PCs remains to be seen.
"The Chromebooks have had less to offer than tablets, so they haven't been that interesting to consumers," said Gartner analyst Mika Kitagawa.