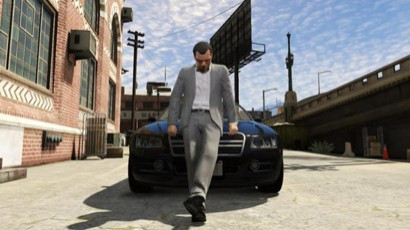 Rockstar has released three new trailers for Grand Theft Auto 5, providing more information on the game's central characters.
The trailers, named Franklin, Trevor and Michael after each playable character, give further insight into the lives and personalities of GTA 5's protagonists. You can watch them here:
Set in Los Santos, a fictionalised version of modern day Los Angeles, Grand Theft Auto 5 centres on a trio of criminals.
Franklin is a young hood operating as a car thief in Venice Beach. This new trailer shows him arguing with a friend about whether they should continue selling drugs and stealing cars or try to aim for something.
Michael meanwhile is a wealthy, supposedly retired criminal who lives in Beverley Hills and has domestic problems with his wife and teenage daughter. In previous trailers he was shown drinking by his pool and struggling to talk to his son, but this latest video takes a much darker turn, with clips of him fighting with his daughter and chasing his wife's lover out of the house.
Trevor, GTA V's thrid playable character, lives in a trailer out in the desert and spends his time racing quad and dirt bikes. He's shown in this latest video to be a drinker and a drug user who seems to enjoy violence much more than Michael or Franklin.
Together, the trio form a gang and embark on a sequence of increasing risky robberies and heists, with a mission involving them breaking into an office block via the roof already trailed in November, 2012.
Though Trevor, Franklin and Michael are all central characters, exactly how much screen time they get will depend on GTA 5 players. Tapping a button during gameplay will instantly switch perspectives between the three men, allowing you to play as each of them during different parts of the game. Alternatively, you can just pick a favourite and stick with them.
Though originally rumoured for release in May, GTA 5 has now been pushed back to 17 September and is expected to launch on PS3, Xbox 360 and PC. Based on the marketing campaign for Grand Theft Auto IV, which also featured trailers focused around the central character Niko Bellic, it's likely that in the coming months more trailers will be released centred on some of the game's supporting cast.