Grand Theft Auto V is set for release in spring 2013. A leaked image of a European poster for the game appeared on fan website GTA-Five, with the words "Pre-Order Now - Spring 2013" printed at the bottom.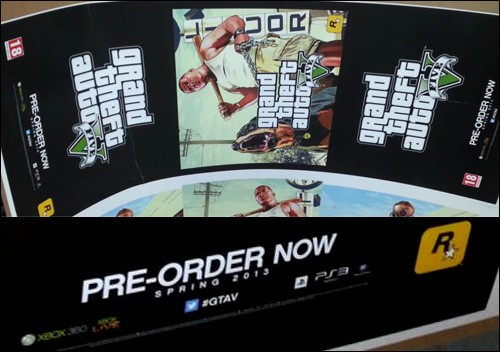 The spring release window was previously predicted by industry analyst Michael Pachter.
Several recent Rockstar games have also been released during spring, including Red Dead Redemption, LA Noire and Max Payne 3, which were all released in May 2010, 2011 and 2012 respectively.
After a first teaser trailer from November 2011, details on Grand Theft Auto V have been scarce. Several new screenshots have been released throughout 2012, but plot and gameplay information so far remains scant.
The game is set to take place in Los Santos, a re-imagining of Los Angeles which originally appeared in Grand Theft Auto: San Andreas in 2004. The main character is rumoured to be Albert De Silva, a retired criminal played by actor Ned Luke.
The 8 November issue of Game Informer magazine will supposedly feature new information on Grand Theft Auto V as well as several new screenshots.
The leaked poster confirms Grand Theft Auto V for PlayStation 3 and Xbox 360. Microsoft Windows and the upcoming Nintendo Wii U are not listed as compatible formats on the poster.
Rockstar Games has recently announced that Grand Theft Auto Vice City will be available on iOS and Anroid devices soon , and that a compilation pack of the company's greatest hits, including Red Dead Redemption, LA Noire and the Grand Theft Auto IV expansion packs will be released on 13 November.