Greece: The Colossus of Rhodes is to be rebuilt, costing more than £180m
The Colossus of Rhodes statue is going to be rebuilt, say architects, over 2,000 years since the earthquake that destroyed the original. One of the Seven Wonders of the Ancient World, the statute will be rebuilt at more than €250m (£183m, $272m).
The planned structure will be around 135 metres tall; more than four times taller than the original 32m statue. The original was built to celebrate the islands' defence against Cypriot invaders, but the reconstruction will have more economic reasoning.
"We want to show that Greece can get back on its feet again, and that the economy here can recover," said Aris Pallas, the project's head architect, told The Times. "We're not out to replicate the ancient Colossus. We want to revive the symbolism it imbued, making it an emblem of globalisation while reviving the historical and cultural significance traditionally attached to the Colossus of Rhodes."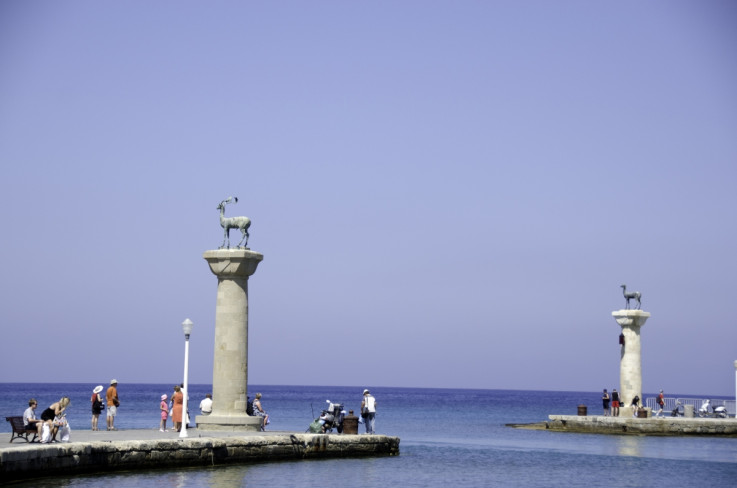 The entrance to Rhodes harbour will be the site of the new statue, with one foot on each side of the entrance
Bruce Harlick/Flickr
The new monument, which will have skin made from solar panels to power the electricals inside, will have a viewing platform at the top, and a library, museum and shops inside. It is estimated that the project will generate €35m (£25m) per year, meaning that the cost of production will be paid back just after seven years.
There will be a few changes from the original though. Seeing as the rebuild will be much taller, a new addition support will be added, disguised as a falling robe. Computer technology is also being installed to provide defence against heavy winds.
In addition, the rebuilt Colossus will straddle the entrance to the harbour, allowing ships to pass between its legs. It will face out to sea – similar to the Braavos entrance in George RR Martin's Game of Thrones. It said that the new Colossus will be visible from up to 35 miles away.
The Colossus of Rhodes was destroyed in 226 BC following an earthquake. Standing for just 54 years, the statue was made using iron and metal sheets. Following its destruction, only one of the seven wonders of the ancient world remains standing; The Great Pyramid of Giza.