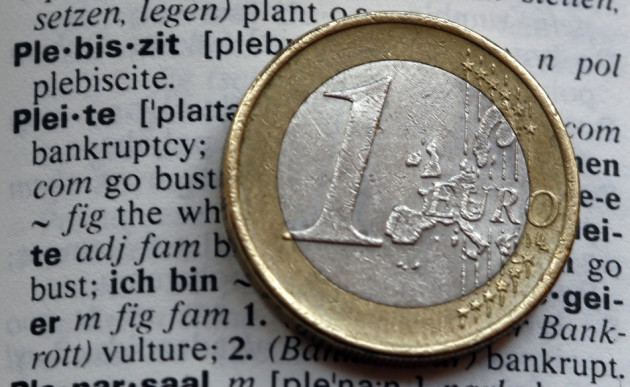 1535 BST: THUD!
The Euro falls to a two-year low $1.2588 as US equity market weakness pushes deeper global risk aversion. 30-year Bunds dip below 2 percent for the first time ever, according to Bloomberg data, and we're seeing upward pressure on peripheral bond yields at the same time.
Spain's benchmark 10-year bonds are 13 basis points higher on the day at 6.23 percent. Italy's 10-years are trading at 5.84 percent.
European stocks are also tanking, with the FTSE Eurofirst 300 down more than 2 percent to 973.3 points and the FTSE shedding a similar percentage.
1500 BST: It's just you and me and we just disagree ...
... there's going to be *huge* disappointment from this Leaders' Summit if some of the statements emerging from the key players are any indication. Dutch Prime Minister Mark Rutte, undoubtedly shaken by the collapse of his coalition government last month, outlines few things he's *not* in favour of: An elected EU president, proposals to allow the European Investment Bank increase its balance sheet and recapitalizing the banks directly from the European Stability Mechanism. All three are, to varying degrees, central planks to the new German strategy on repairing "Broken Europe".
1400 BST: More from Paris
Spain's Rajoy says he's in favour of a Financial Transaction Tax but reiterates his previous statements on having no desire to tap any EU programme for emergency funds for his country's banking sector.
The "Tobin Tax" stuf is interesting from a UK perspective, in that Prime Minister David Cameron has long been against such a move and said as much to Hollande when the two met for the first time last week.
Hollande, meanwhile, tells reporters in Paris he is "not aware of call for contingency planning for Greek Euro exit".
1335 BST: Mr. Hollande's Opus
Spain's Prime Minister, Mariano Rajoy, is making a joint statement with French President Francois Hollande in Paris ahead of this afternoon's Summit in Brussels.
Rajoy seems to back Hollande's "Growth, too!" approach to the Fiscal Pact, saying reforms to cut the deficit must also come with those which would stroke demand. He's also calling on the EU to "dissipate doubts" over the single currency in order to lower financing costs for the regions' banks and treasuries.
Hollande says he's going to push the growth pact idea at the Summit, despite the oft-repeated rejections of the Germans.
1300 BST: Mid-day update
All quiet as investors await the US opening bell and the inevitable news leaks from today's "informal" EU Leaders' Summit.
FTSE Eurofirst 300 has plateaued at a 1.57 percent decline (978.04) while the FTSE 100 is down around 96 points on the session to a November 2011 low of 5,307.63
The appetite for risk might be diminished, but no so for debt (at least the good stuff). Germany's €4.55bn two-year auction still left enough room in investors' pockets to take down Triple-A yields around the region (and in the United Kingdom) for most of the morning.
Germany's benchmark Schatz is now trading at an astonishing 0.04 basis points while 30-year Bunds also touched a record low 2.035 percent. Again, it's worth stating that Germany can fund itself until 2042 at *half* the cost that Spain can secure it for 6 months.
1205 BST: Barclays out of Italy?
Reuters reports Barclays is considering the sale of its Italian bank branches. The UK-based lender has 191 offices in Italy and has held preliminary talks regarding thier sale, Reuters reports, citing a source close to the matter.
Barclays said earlier this week it was dumping its entire 20 percent stake in Blackrock, the world's biggest asset manager, for around $6.5bn.
Barclays shares have been in deep red all morning and are now down about 3.76 percent at 181.8 pence per share.
1140 BST: Debt Dump
Fitch Ratings reports a huge drop in Non-resident holdings of Spanish and Italian government debt - and says the pace of selling has quickened of late. In 2008, the ratings company says non-residents held around 60 percent of outstanding Spanish debt. Today that figure is around 34 percent. (Both numbers exclude the mountains of Spanish government bonds now owned by the European Central Bank, either as part of its Securities Markets Programme or as collateral against its various liquidity programmes).
Italian government debt holdings by non-residents fell from around 50 percent in 2008, Fitch says, to around 32 percent today.
"Fitch sees a high risk of outflows in Spain and Italy continuing in the coming quarters until either a more stable base of foreign investors with higher risk appetite is reached, or economic prospects for Spain and Italy improve. The change in the investor base follows a similar shift in Ireland, Portugal and Greece, the three eurozone programme countries, and reflects a broader investor aversion to the peripheral debt markets."
1130 BST: Equitites falling fast
Bank stocks (and miners) are dragging the FTSE 100 towards a 2 percent fall this morning as investors count the grim costs of an Greek exit on Europe's biggest lenders, which collectively hold around $1.2tn in sovereign bonds of indebted Eurozone economies.
The Euro STOXX Bank Sector Index is down around 2.7 percent this morning, helping add to steep declines for most major domestic indices.
London's FTSE 100 is trading at 5,299 after shedding just over 100 points since the opening bell, the lowest level since late November. The FTSE Eurofirst 300 is 15.5 points down, or 1.56 percent, to 978.15, the lowest since 21 December.
1120 BST: Not so fast
RBS Economists on the probability of more quantitative easing from the Bank of England:
The debate remains one-directional and the Bank is clearly leaving itself ample scope to restart asset purchases in the event of escalating financial market strains. Our impression remains that the underlying macroeconomic projections (GDP, CPI etc) are not sufficient in themselves to warrant further easing; that requires more financial market contagion.
1105 BST: All present
.. and accounted for - but I missed the bund auction! The €4.55bn Zero-coupon Schatz sells at 99.86 to yield 0.07 basis points, the lowest-ever recorded for a German debt sale. Bidders placed €7.7bn in orders for a bid-to-cover ratio of 1.7times.
The German debt agency also sold a 10-year, €1.291bn inflation-linked bond with a 0.10 percent coupon which priced to yield 0.24 percent.
Bond yields around the edges of Europe are on the rise following the sale, although whether it's investor rotation (freeing up cash to fill the Schatz orders) or more reflective of the overall "risk off" tone is hard to say. It does feel as though it's the latter, however, given the tight pricing on Spanish debt we saw earlier this morning.
Spain's 10-year benchmark bonds are now trading at 6.16 percent, up 6 basis points on the day, while Italian 10-years are trading 8 basis points higher at 5.82 percent.
Gilt yield continue to fall post- BoE minutes with the benchmark 10-year now trading at 1.81 percent.
1025 BST: Fire Drill!
34-floor walk awaits .... I'll be back
1015 BST: QE or not to QE
Investors don't seem to think it's a question - they're already placing bets on another round of asset purchases from the Bank of England after minutes today affirmed the view that slowing inflation and a weakening economy will demand more stimulus.
April retail sale were utterly abysmal and the steep decline in fuel sales suggests an easing in headline CPI in the coming months - confirming the hint from Tuesday's Inflation data which showed consumer prices rising at the slowest pace in more than two years.
If the CPI needle can comfortably dip below 3 percent (year-on-year) throughout the summer and the expected loss of output linked to the four-day Jubilee holiday is confirmed with another weak GDP reading in the third quarter, you'd have to think we're in for at *least* £25bn more in quantitative easing. And, given the instruction from Christine Lagarde and the International Monetary Fund, perhaps even a cut in the key lending rates.
Ten-year Gilts are 3 basis points better at 1.82 percent while the pound sits at a four-month low $1.5713 against the dollar.
0935 BST: Well, we *are* in recession
April retail sales in the UK fell 2.3 percent to the lowest level since January 2010. That's a long, long way from the City consensus of a 0.8 percent dip. Strip away a record drop in fuel sales, according to the Office for National Statistics, and you still have a full -1.0 percent fall in *the* most important component of the British economy. The soggy April weather didn't help, of course, but it's still a miserable reading.
No surprise, then, that we learn Bank of England policy makers agreed there was at least a case to be made for extra stimulus, according to minutes of their last rate-setting meeting, even though the board voted 8-1 in favour of maintaining the current level of asset purchases at £325bn. David Miles was the lone dissenter, voting for a £25bn increase.
MPC members voted 9-0 to keep the benchmark lending rate unchanged at a record low 0.5 percent.
0920 BST: Sinking fast
The single currency is within a whisker of its 2012 low of 1.2624 (1.2626) as currency markets around the world adjust to the increasing risk of a global economic slowdown linked to the European debt crisis.
09010 BST: Confidence game
Consumer morale in Italy has plunged by 10 points in the last two months, hitting a record lo 86.5 in May, according to figures released by Italy's national statistics bureau ISTAT. Sentiment on the overall economy, which is mired in its second recession in three years, was measured at 64.4 (down from 71.6 in April).
European shares are slipping further after the first hour of trading, with the FTSE Eurofirst 300 now off a full 1.04 percent, or 10.29 points, to 983.46. London's FTSE 100 if off 70 points at 5,333.65.
0845 BST: Damage control
Lucas Papademos tells CNBC Europe that he's "not aware of any specific preparations" within Greece for an eventual exit from the single currency as the former Greek Prime Minister continues to back away from comments first reported by Dow Jones Newswires Tuesday and subsequently repeated all over the world.
He said a "Grexit" (although he didn't use that word) would be "catastrophic" for his nation and have far-reaching consequences for the whole of Europe last night to Dow Jones, but told CNBC today that it was "unlikely".
"European political leaders have sent a clear message comprising two parts: Greece should remain in the euro zone; and the country should respect its commitments. Hence, the risk of Greece leaving the euro is real and it depends effectively on whether the Greek people will support the continued implementation of the economic programme"
0835 BST: Bonds firmer
Odd prices this morning in the bond market, given the equity market declines overnight and the cautious tone this morning.
German bunds are firmer at 1.45 percent, but Spain's benchmark 10-years are bid at 6.1 percent, which seems very, very expensive given the news that Spain may detail the cost of its Bankia rescue later today. Economy Minister Luis De Guindos is due to speak to Spanish lawmakers at 1500 BST.
Gilts are firmer this morning, as well, ahead of minutes from the Bank of England's last rate-setting meeting in early May, which will be published at 0930 BST, and retail sales figures for the month of April, which will be released at the same time.
Gilt futures for June rose 42 ticks to 118.81 in early London trading while benchmark 10-year Gilt yields fell three basis points to 1.84 percent.
Germany will sell around €5bn in two-year bonds later this morning with a coupon of 0 percent. The "on-the-run" German two-year bond, or Schatz, is trading at around 0.064 percent.
0820 BST: Race to the bottom
Loads of movements in overnight currency markets that are filtering through into the London session. India's Rupee has hit a new all-time low of 56 against the US dollar while the Euro continues to drift towards it January 2012 low of 1.2624.
The US Dollar index touched a 20-month high 81.83, largely driven by safe-haven flows, which helped push both the Australian and New Zealand dollars to 6-month and 5-month lows respectively. Sterling is down around 0.2 percent against the greenback this morning at 1.5739
0805 BST: Bookie bang on
The spread betters called it pretty much on the nose: the FTSE 100 is down around 64 points in the opening minutes of trading, or 1.2 percent, while we're seeing similar falls for the broader FTSE Eurofirst 300 and domestic exchanges in Germany, France, Spain and Italy.
One standout decliner at the moment is France's Credit Agricole, which has fallen a quick 2.8 percent on renewed concerns its estimated €6bn exposure to Emporiki Bank in Greece could affect the credit quality of France's fourth-largest lender. CEO Jean-Paul Chifflet has repeatedly ask for access to liquidity facilities from the Greek central bank .
0755 BST: Good Morning!
We can recap Asia fairly quickly this morning as it's largely a "risk off" precursor to a longer session of worrying and waiting - it's EU Leaders' Summit day in Brussels and that's where the market will take its direction. Equity markets fell sharply overnight as Tuesdays' gains were reversed - and then some - as investors factored in slower growth figures around the region and the cost of the current turmoil swirling around Europe.
A large portion of the "risk off" caution was linked to an interview published late Tuesday by Dow Jones Newswires with former Greek Prime Minister Lucas Papademos, who said, in remarks he later clarified, that the risk of Greece leaving the Euro was "real" and that preparations were being made for an exit if events demanded.
The broader MSCI Asia (ex Japan) Index fell 1.9 percent while the Nikkei 225 dropped around 1.7 percent. The single currency drifted to a four-month low of 1.2674 in Asia-hours trading while 10-year German bund yields opened at around 1.45 percent in European trading.
European shares are called to open lower - by as many as 63 points on the FTSE 100 and similar percentage declines for major domestic bourses around the region.