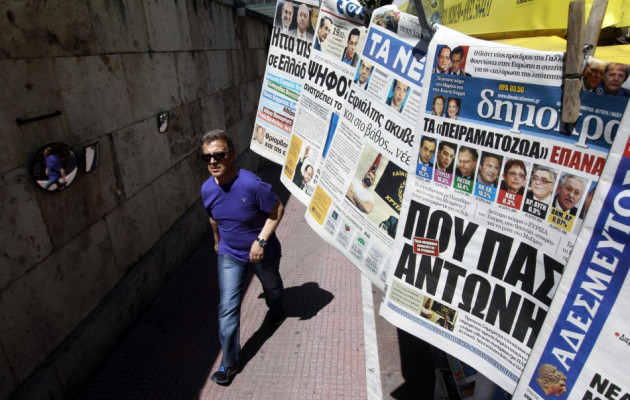 European shares extended losses Thursday as the debate over Greece's future in the Eurozone intensified and the Euro slumped closer to it's longest-ever losing streak against the dollar.
The broadest measure of European share price performance, the FTSE Eurofirst 300, has been shifting in and out of positive territory for most of the day, but was last seen up 0.49 percent to 1,019.63 by 1310 GMT, snapping a three-day losing streak and taking the index to its lowest level of the year.
The single currency traded as low as 1.2929 against the US dollar during Asia trading hours before firming slighty to 1.2935 but looks set for a ninth consecutive daily fall, the longest-even series of declines against the US dollars since it began trading in 1999. It has lost 2.1 percent of its value against the greenback in the past eight days.
Markets had been buoyed at the start of the European session by news late Wednesday that officials had released €4.2bn from its bailout fund, the European Financial Stability Facility (EFSF), despite the political turmoil following Sunday's election.
EFSF head Klaus Regling said Thursday that future payouts from the fund would need to be negotiated between Greece's new government and the so-called "Troika" of the EU, the European Central Bank and the International Monetary Fund.
However, a data from ELSTAT, the country's statistics office, provided a grim reminder of the Herculean task it faces if it's to pull out of a five-year recession that has loped 20 percent from its GDP and destroyed more than 500,000 jobs.
Unemployment in Greece, where the ousted PASOK Party is attempting for form a coalition government, hit a record high 21.7 percent in February with 54 percent of young Greeks are currently out of work. Industrial production in the month of March fell a steeper-than-expected 8.5 percent from a year ago.
The depressing figures come as manufacturing output in the deb-stricken economy slowed further and London bookmakers began refusing bets on its exit from the single currency.
Former Prime Minister Evangelos Venizelos is the third Greek leader in as many days tasked with forming a workable government after last weekend's vote-splitting election stirred a national debate over the country's future in Europe and the terms and conditions linked to its €174bn bailout.
Ladbrokes, the UK bookmaker, in what may be a PR exercise but certainly reflective of popular sentiment, said Thursday it would no longer take bets on Greece's departure from the single currency. It's last price on the bet was 1 to 3 "on", meaning a £3 pound bet winning bet would earn £1.
A Bloomberg news poll published Thursday showed 57 percent of the more than 1,200 global investors asked felt Greece would leave before the end of the year. More than 80 percent predicted more weakness for the region's pummelled bond markets.
ECB Governing Council member Ewald Nowotny told reporters in Vienna that it was "premature" to talk of a Greek exit, but nonetheless "time is flying" on its ability to solve its spiralling financial crisis. German Finance Minister Wolfgang Schaeuble told reporters in Berlin that the EU and the IMF would do everything posible to help Greece, but that that "if Greece does not help itself, there is nothing to be done".
German bund futures for June delivery rebounded by mid-session, testing all-time highs of 143.03 again Thursday as weak economic data from Greece and elsewhere around the region gave rise to another move into high-quality assets.
Elsewhere, most major domestic indices in the region built modest gains with Spain's benchmark IBEX 35 rebounding more than 3.4 percent from Wednesday's three-year low to pass back into 7,000 point territory.
Spain's government confirmed late Wednesday the effective nationalisation of one of its largest lenders, Bankia, after converting an earlier €4.5bn loan to its parent, BFA, into a 45 percent equity stake.
The move gives investors some rare confidence in the nation's ability to stabilize its financial sector, which is currently staggering under an estimate €184bn in potentially impaired property loans.
Government bond yields for Spain's benchmark 10-year paper were little changed in a quiet session after having reached a six-month high of 6.08 percent Wednesday.
Credit default swaps for Spanish debt improved by 4 basis points to 510 basis points. This means an investor could pay €510,000 each year for five years to insure €10m in Spanish government bonds against default.
In the UK, the FTSE 100 index reversed Tuesday's decline and added by about 8 points, or 0.15 percent although the benchmark remains fixed near a late December low at 5,5537.76
Sterling remained little changed from its 3.5 year high of .8081 against the Euro after Bank of England Governor Mervyn King held its key lending rate at a record low 0.50 percent and made no changes to the £325bn asset purchase, or quantitative easing, programme at mid-day London time.