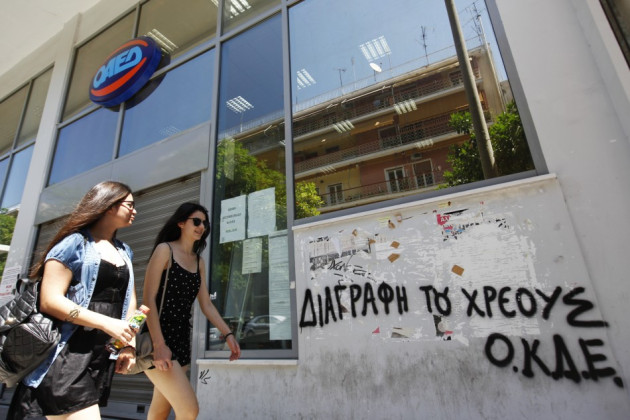 Greece faces an employment crisis as its economy tailspins into a sixth consecutive year of recession after record high jobless figures and news that its biggest private company may be planning to exit the country.
Unemployment rose to a record 25.1 percent in July, the Greek statistical service ELSTAT said Thursday, a 0.3 percent increase from June and the 35th consecutive monthly increase. Greece's jobless rate is now double the Eurozone average and has more than tripled since the crisis began to accelerate in 2008. More than 1.26m Greeks were actively seeking employment in July, up 43 percent from a year again, and youth unemployment was measured at crippling 54 percent.
A further blow followed the ELSTAT release with news that Greece's biggest company - in terms of market value - was moving its headquarters Switzerland and de-listing is shares on the benchmark Athens Stock Exchange General Index.
Coca-Cola Hellenic Bottling Company (CCH), 23 percent owned by the drinks giant Coca-Cola Co, is the second largest bottler of Coke in the world with distribution rights to 28 countries. In a deal announced Thursday, its shareholders agreed to swap their stocks in exchange for shares in Swiss-based Coca-Cola HBC AG, a recently created holding company. The new group plans to list shares on the London Stock Exchange and the New York Stock Exchange.
CCH employees around 41,000 people, according to its website, and plans to maintain its operations at two facilities inside Greece despite the corporate restructuring. However, with less than 10 percent of its revenues derived from the Greek market, some analysts question the long-term sustainability of its operations in Greece should the economy continue to decline. CCH posted a 15 percent fall in second quarter profits in August as net income fell to €119.6m.
The heavy tax contribution it made to the Greek treasury will also be hugely diminished by the Swiss domicile just as officials are reporting stagnating revenues for the first nine months of the year as they struggle to reinvigorate the economy amid the steepest austerity measures in at least a generation.
Net government revenues fell €1.3bn short of a €38bn target set out by Greece's co-called Troika of international lenders as part of its €240bn bailout negotiated last year. Corporate tax rates can reach as high as 45 percent in Greece.
"The sovereign crisis in Greece and the weakness in the local economy and consumer environment have created additional constraints for Greek corporations, notably in the form of weak demand and additional taxes," analysts at Moody's Investors Service wrote in a research piece on CCH published in July. "In addition, there might be additional taxes on consumer products in the future as part of the government programme to stabilise the public finances."
Fage Dairy, one of the country's biggest agricultural firms, said earlier this week that it was moving its headquarters to Luxembourg, a move Standard & Poor's said addressed "risks linked to being a Greek incorporated company--including potential reduced access to capital markets, and legal uncertainties."