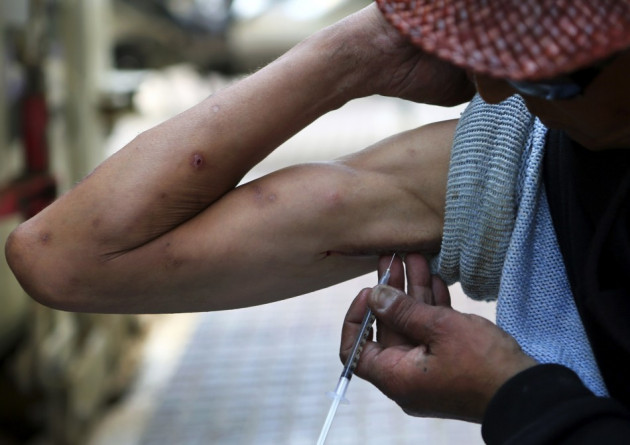 Unemployed Greeks were resorting to desperate measures, including self-inflicting HIV infections, in order to draw monthly benefits from the government, according to a report by the World Health Organisation.
According to a recent report released by the World Health Organisation (WHO), there has been a sharp increase in the number of HIV cases with about half the patients knowingly contracting it.
The 188-page study, entitled Review of Social Developments and the Health Divide in the WHO European Region, said: "HIV rates and heroin use have risen significantly, with about half of new HIV infections being self-inflicted to enable people to receive benefits of €700 (£586) per month and faster admission on to drug-substitution programmes."
*However WHO spokesperson Gregory Hartl later denied the claim saying it is the consequence of an "editing error".
Expressing apology, he said the report should have read: "Half of the new HIV cases are self-injecting and out of them few are deliberately inflicting the virus'."
Greece is reeling under a relentless financial crisis in the eurozone with the youth unemployment rate running at 75% in some parts of the country.
The study was conducted by more than 80 researchers from a cross-section of social institutions.
The WHO report points out that suicide rates have also been sharply rising as the financial situation deteriorates. The number of suicides in Greece has increased 17% from 2007 to 2009 and then spiked to 40% during the first part of 2011.
The Greece-specific case study in the report adds: "Prostitution has also risen, probably as a response to economic hardship. Health care access has declined as hospital budgets have been cut by about 40% and it is estimated that 26,000 public health workers (9,000 doctors) will lose their jobs."
Warning that the situation in Greece will serve as a grim lesson to other such financially-wrecked European nations, the WHO said: "These adverse trends in Greece pose a warning to other countries undergoing significant fiscal austerity, including Spain, Ireland and Italy. It also suggests that ways need to be found for cash-strapped governments to consolidate finances without undermining much-needed investments in health."
*Correction has been made on 27 November following apologies from WHO.