Britain is home to about 40% of the world's population of grey seals, also called Atlantic seals. The largest colonies are in the Orkney islands off the north coast of Scotland and the Farne Islands off the Northumberland Coast.
There is also a large grey seal colony at the Lincolnshire Wildlife Trusts' Donna Nook National Nature Reserve near Grimsby.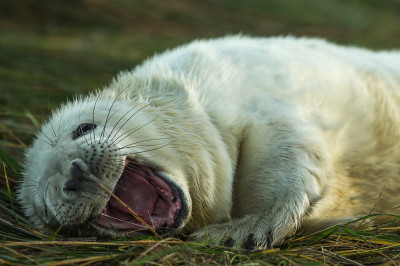 For much of the year grey seals are at sea or on distant sandbanks, but every November and December the seals come onto the beaches to give birth to their pups.
The pups, born with white coats, suckle from their mother for two or three weeks. She then leaves them to fend for themselves and they shed their white coat.
Getty Images photographer Dan Kitwood went to look at some of the 1,220 pups that have been born at Donna Nook so far this winter.