Hackers Hit Anonymous's AnonyOps Website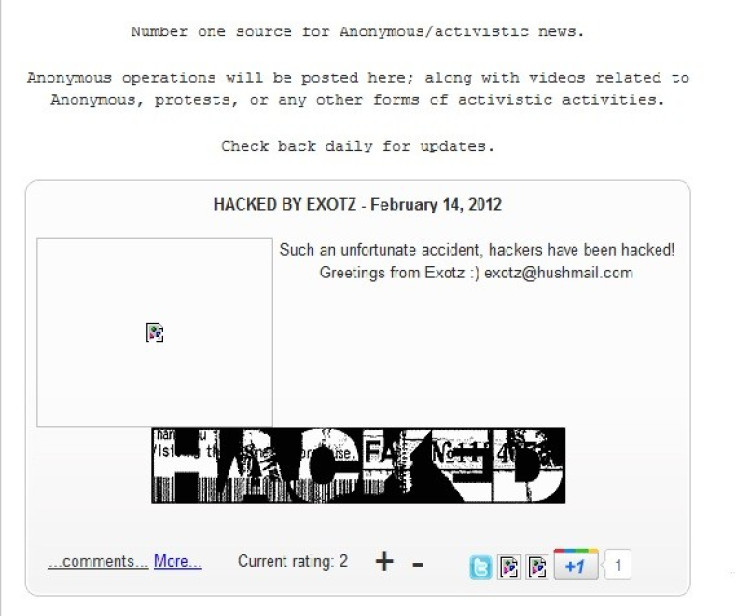 Reports have emerged that AnonyOps, a website associated with the hacktivist Anonymous collective, has been defaced by the hacker Exotz.
The defacement appeared Tuesday when a large message reading "hacked" went up on AnonyOps' front page.
Below the message, the hacker left a calling card seemingly mocking Anonymous. "Such an unfortunate accident, hackers have been hacked! Greetings from Exotz exotz@hushmail.com," read the statement.
While not on the scale of AnonOps or YourAnonNews, AnonyOps is one of the larger websites associated with the Anonymous collective. The site's Twitter account currently has 146,565 followers and regularly tweets news about the collective's current activities. The hacker, Exotz, did explain its motivation for the attack.
Though the exact details of Anonymous's origin remain as mysterious as its moniker, the collective is believed to be an offshoot of the older 4Chan online community.
Operating off an open IRC channel, the collective allowed any user to join and become a member, or "Anon" as they tend to refer to themselves. Though the information is far from official, Anonymous reportedly picks its targets in a democratic way, with participants in the chat putting forward their chosen target and arguing their case to the other members as to why the proposed target deserves Anonymous's attention.
The collective has claimed responsibility for a number of high-profile attacks on governments and corporations. Anonymous is also one of the earliest and largest supporters of the Occupy movement and its ongoing series of protests.
© Copyright IBTimes 2023. All rights reserved.