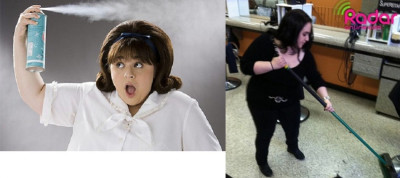 She was a star of a hit movie in her teens but just four short years after finding fame in Hairspray, Nikki Blonsky is a long way from Hollywood.
The 23-year-old star who starred alongside John Travolta in Hairspray has been forced to take up a job as a make-up artist at a New York salon after struggling to find acting jobs.
The actress, who also landed roles in Ugly Betty and US TV series Huge, is now making her clients look like celebrities while she waits for her next big break.
Even though the young actress faced harsh criticism when it surfaced that she has trading in her manuscripts for make-up brushes Blonsky insisted that she was only doing what she had to pay the bills.
She slammed her critics and reassured her fans that she was still chasing her dreams by tweeting: "It's true I'm workin@ Superstar Salon as a makeup artist & more I'm proud 2 b workin & helpin pay bills BUT ill NEVER loose sight of my dreams.
"Just cause I'm part time workin doesn't mean I'm gonna give up on my dreams n don't give up on urs I might book something big soon keep positive," she added.
But Nikki Blonsky is not alone many celebrities have been forced to eat humble pie and find a "day job" after their careers when sideways and they ended up broke.
Here are just a few celebrities who had to either change their lifestyles or lost it all completely...