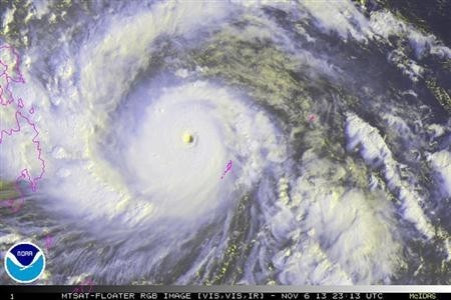 Super typhoon Yolanda, the strongest and most dangerous storm to form on the planet this year, is heading towards the Philippine coast for a Friday morning landfall packing monster winds and posing serious threat to several areas in the central regions of the country.
Typhoon Yolanda, also kown as Haiyan, packs maximum sustained winds of around 268 km per hour (kph) and gusts reaching 324 kph as it slams into the Samar-Leyte area Friday morning, the US military's weather bureau said.
The gust speeds at this range can potentially can cause bigger damage than the monster typhoon Pablo in 2012, which killed more than 1,000 people. Super typhoon Pablo had 259 kph sustained winds and 314 km per hour gusts when it hit Mindanao in December 2012, according to the Hawaii-based Joint Typhoon Warning Center (JTWC) run by the US Navy and Air Force.
Pablo had flattened three coastal towns on the southern island of Mindanao and destroyed crops, property and infrastructure worth £650mn.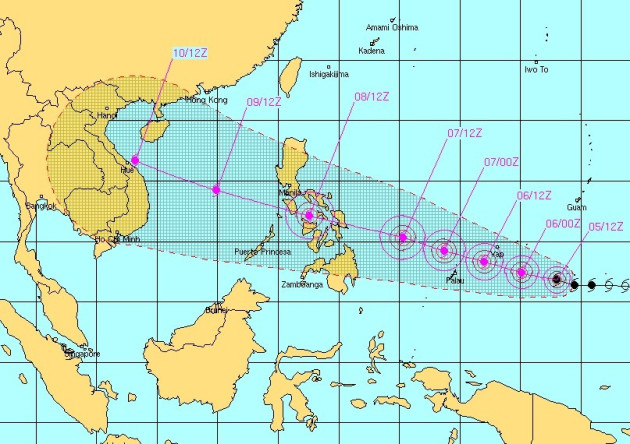 Yolanda Landfall and Vulnerable Areas
Yolanda will make landfall over Guiuan, Eastern Samar, between 9 a.m. and 10 a.m. on Friday and move past the Philippines on 10 November. According to weather forecasts by Pagasa, "after hitting Guiuan, Yolanda is expected to pass through the provinces of Leyte, Biliran, Northern tip of Cebu, Iloilo, Capiz, Aklan, Romblon, Semirara Island, Southern part of Mindoro, then Busuanga."
In its 11 am bulletin on 7 November, the Philippine Atmospheric, Geophysical and Astronomical Services Administration (Pagasa) said that as of 10 a.m. the eye of the typhoon was spotted 637 kilometers east of Hinatuan, Surigao del Sur.
Typhoon Yolanda is the second massive storm to enter the Philippine Area of Responsibility (PAR) in November and the 24th this year. For tracking the storm and for the latest information, click here.
Evacuation, Relief and Rescue
Authorities have shut down transportation and schools in areas where the storm threatens to cause maximum damage. They have said they are aiming for zero casualties and that local disaster agencies have been asked to start evacuating people from coastal and low-lying areas as well as those in landslide-prone areas.
"The provincial government is rushing the distribution of additional tents and other relief goods for those who are still staying in open spaces in makeshift tents. All municipal mayors are under orders to conduct pre-emptive evacuation of residents still staying near river banks and mountain slopes as the rains could trigger landslides and flooding," said Tootsie Escobia, spokesman of the Bohol provincial government.
The island of Bohol is epsecially vulnerable as it was devastated by a 7.2 magnitude earthquake in October 2012. The quake claimed the lives of at least 200 people and the latest typhoon threatens to destroy more houses.
Army, police and paramilitary forces have been pressed into service in high-alert areas and are bracing for any eventuality. People have been warned of floods, landslides and severe gusts and have been advised to stay in the strongest structure available in their areas.
According to the Philippine Information Agency, the Department of Social Welfare and Development (DSWD) and the local government units (LGUs) along the path of Yolanda are undertaking precautionary measures to face the possible impact of the storm.
DSWD has prepositioned over £2,700,000 worth of emergency relief resources that include over £480,000 standby funds, 84,703 family food packs amounting to over £3100,00, and other food and non-food items at over £1,900,000 for the regions within the typhoon path.
Repacking of additional 25,000 family food packs is ongoing at the DSWD-National Resource Operations Center in Pasay City. DSWD is also coordinating with different partners for the land, air and sea transport of relief resources.
Helpline Numbers for Emergency Contact
PAGASA - Philippine Atmospheric, Geophysical and Astronomical Services Administration: (02) 433- ULAN (433-8526)
NDRRMC - National Disaster Risk Reduction and Mangement Council: (02) 911-1406, (02) 912-2665
MMDA - Metro Manila Development Authority: 136
DPWH - Department of Public Works and Highway: (02) 304-3713
DOTC - Department of Transportation and Communication: 7890, (0918) 884-8484
Philippine Red Cross: 143, (02) 911-1876
Prayers
Even as various government and provincial authorities have launched massive evacuation and relief operations, people living in highly vulnerable regions, such as the Negros Occidental, Bicol and Visayas, are praying to god to calm the monster typhoon Yolanda and spare their lives and properties.
"We implore You to embrace us, the Bicol and Visayas Region and calm Typhoon Yolanda as you did with your disciples at the middle of the sea," a prayer circulating in Negros Occidental said, according to a local newspaper.
Philippine Red Cross also issued its "Survival Tips" before, during and after the typhoon.