Heidi Klum who is evidenlty Halloween's biggest fan has given a glimpse of her costume she would be wearing it her annual party. The German supermodel is going to show her glamorous side this year with an outfit inspired from late Elizabeth Taylor's 1963 film Cleopatra.
"One week until Halloween! Here's a sneak peek at my crazy Cleopatra costume!" she tweeted along with the picture of the costume.
"Cleopatra comes 2 life! Bill Corso & Martin Izquierdo are amazing! Wait until #heidiklumhalloween night 2 c the final!" she added.
The 39-year-old also shared behind the scenes video on her website.
"It's my favorite time of year, Halloween! This year, I'm taking you behind the scenes before my big Halloween costume debut! Check out the clip above to see all the details of the making of my outfit--I'm going as Cleopatra!" she wrote.
"Today, you're getting a sneak peek at my ensemble before I debut the complete look to the world at my annual Halloween party at FINALE Nightclub in New York City, sponsored by HobNob Wines, Svedka Vodka and smartwater on October 31. As you'll see in the video, the making of my costume is quite an elaborate process. It takes months of planning and a team of expert designers to put it all together. Costume designer Martin Izquierdo has been creating my costumes for me for years. He's amazing! In the clip above, you'll see what the fitting process is like and how we take a basic idea and turn it into the final product.
"I can't wait for Halloween! Stay tuned for my final look when I walk the red carpet at my party".
However, not all her outfits are well received. In 2008, she sparked controversy among Hindu religious groups when she appeared in a mock-up of Goddess Kali (a Hindu goddess who liberates souls from the cycle of birth and rebirth). She was eventually forced to apologise for her costume.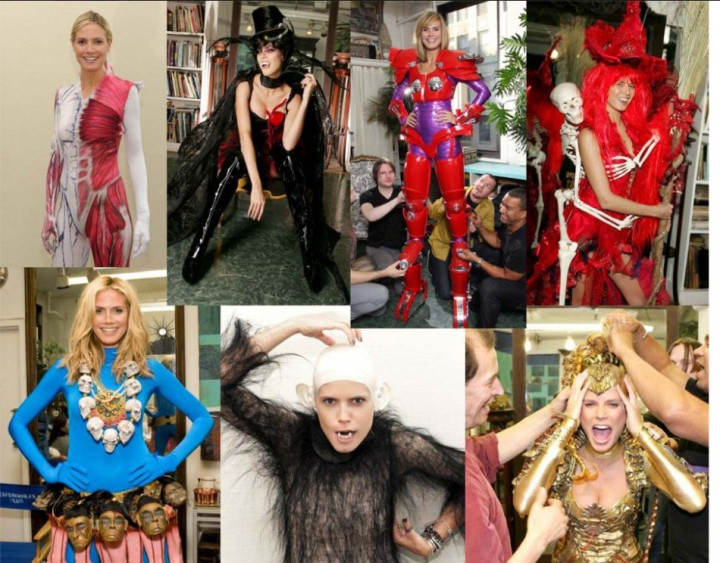 "I loved my costume and I love Halloween,' Klum said at the time.
"I mean that is one of my most favourite times of the year. I've done so many different things. This was probably my tenth time and I've done so many people like Betty Boop and Lady Godiva and it's always a take on someone. You're not that person".
And then there were costumes that didn't turn out to be very comfortable. Klum and former husband Seal dressed up as crows in 2009 and she later admitted it was not a great idea.
"It was bad. My husband was driving and he could hardly see anything... When you have a beak on, you can't talk to anyone, you can't really drink. It's not a good costume!" she was quoted as saying in a Daily Mail report.
Meanwhile, click here to check out Klum's All Time Outrageous Halloween Costumes.