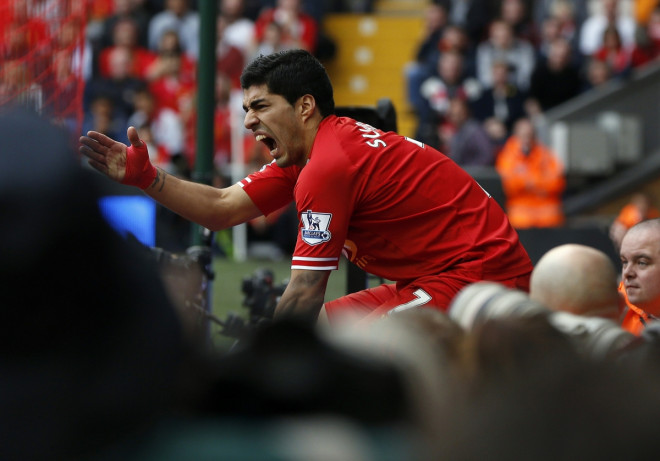 Former Liverpool midfielder Dietmar Hamann believes Luis Suarez will not stop his on-field antics unless he is sent off.
The Uruguayan international escaped from getting a second yellow card during the Reds' 3-2 victory over Manchester City at Anfield. The 27-year-old went down easily after a contact from City defender Martin Demichelis, for which the referee Mark Clattenburg did not book the striker.
Suarez has been instrumental in Liverpool's brilliant form this season. The former Ajax man is the leading scorer in the Premier League, with 29 goals from 29 games.
Hamann claims the Uruguayan striker had improved in recent times, but his display against City has shown him that Reds' star has returned to his old tricks.
"I don't agree with his antics. He's a fantastic player but, unless someone sends him off for play-acting, [he won't stop]. He's been better recently but against Manchester City he was back to his old tricks," Hamann told talkSPORT.
"There is contact [between Suarez and Demichelis] but his antics don't do him any favours. If [referee] Mark Clattenburg doesn't judge it to be a foul then he should have sent him off.
"I don't want to accuse him of diving, because there has been contact, but there was some play-acting. That was the reason he didn't get the penalty later on. That was blatant. Kompany had his hands on his chest," he added.
Meanwhile, City defender Demichelis remains confident that Manuel Pellegrini's side can still win the league title this season. The Citizens are third in the table with 70 points from 32 games, trailing league leaders Liverpool by seven points. The Reds have played 34 games so far.
Demichelis believes Brendan Rodgers' side will drop points, during which City needs to capitalise.
"We're obviously not happy about the result but we know we have matches ahead and you have seen in football that we can still win – they [Liverpool] can still make mistakes," Demichelis explained.
"Hopefully we will win the rest and expect some mistakes from Liverpool. No-one left the stadium feeling they were champions, and we have plenty of matches," he added.