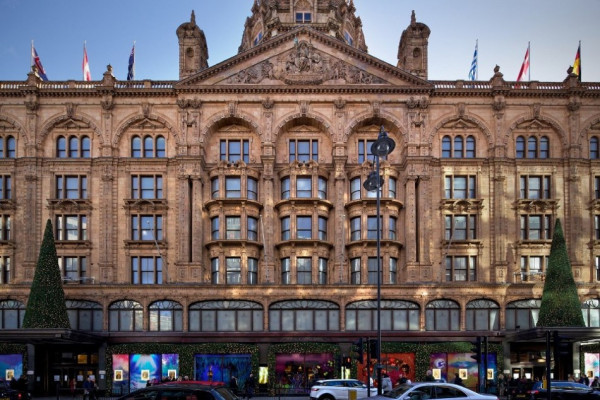 London's luxury department store Harrods is beginning its once-a-year in-store bargain sale on 26 December, as shoppers are expected to spend billions of pounds in Boxing Day sales.
The retailer started its world-famous sale event online on 22 December, but the in-store sale on Boxing Day would be special with a larger number of items and better discounts.
The upmarket department store located on a five-acre site on Brompton Road in Knightsbridge will start its first day of winter sale at 10 am and end at 6pm on 20 January 2013.
The store will open its winter sale, marking the 25th anniversary of Harrods sale openings, with a performance by Cirque du Soleil, which will officially declare the opening of the sale for the first time in history.
During the sale event, the store promises discounts of up to 70 percent on its top designer brands.
Harrods, which is well-known for its celebrity-endorsed sales, food hall and signature green bags, has more than a million square feet of space and sells luxury and everyday items across seven floors and 330 departments. The store is said to be attracting 15 million customers every year.
Established in 1849 by Charles Henry Harrod as a single-room, the Knightsbridge store expanded gradually to become a vibrant department store selling medicines and perfumes to clothing and food by 1880.
Harrods has signature shops at Heathrow Airport, Gatwick Airport, Lisbon International Airport and Kuala Lumpur International Airport. It has also agreements with various store operators in Singapore, Japan, Malaysia, Taiwan and Australia to sell its flagship brands in the countries.
The store is currently owned by Qatar Holdings, which acquired the store in 2010 from Egyptian-born tycoon Mohammed Al Fayed for a reported £1.5bn ($2.4bn, €1.8bn). Al Fayed bought the store in 1985 for £615m.
Britons are expected to spend almost £3bn in Boxing Day shopping as they are set to hunt for bargains, BBC reported citing industry experts.
Meanwhile, the British Retail Consortium (BRC) hinted that post-Christmas sales are less likely to help the industry as sector weakness continues to prevail.
BRC Director General Helen Dickinson said that Christmas trading was not exceptional as consumers and retailers suffered from the economic weakness.
"Overall, Christmas hasn't been a boom time for UK retailers but it hasn't been complete doom and gloom either," Dickinson said.
"As we look to the New Year, utility prices are likely to edge up inflation and people are keen to continue paying down their debt, which means the amount of money they have in their pockets will remain under pressure. So, 2013 will be characterised by more of the same and there's every sign that the ongoing endurance test for retailers of trading in a largely no-growth environment is likely to continue well into next year."