Great Britain's Helen Jenkins says her pursuit of Olympic triathlon gold was hindered by injury in preparation for the event.
The three-time world champion was in the mix for medals in the final two laps of the running stage, as one of four athletes to make a late breakaway.
But she couldn't keep up with the ferocious pace set by Switzerland's Nicola Spirig and Sweden's Lisa Norden, who won gold and silver, respectively, after a stunning sprint finish.
Jenkins eventually finished fifth, and was left to reflect on the damaging disruption to her training for the Games.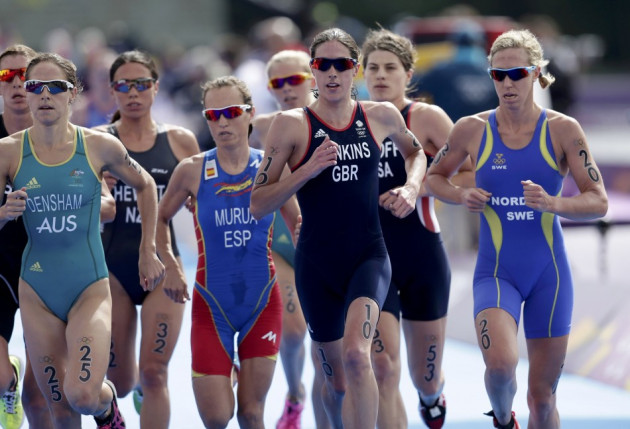 "I did give it everything I just couldn't hang in there on the last lap," she said. "This has been the hardest ten weeks of my career. I had an injury and it's been really hard just to get to the start line.
"I was amazed that I was in contention for that long. I haven't been able to get all my running in.
"I gave it everything and the crowd helped so much, I just want to thank my team who have got me to the start line and everyone out there shouting and everything. I'm just sorry it wasn't a medal.
"The British triathlon team have been amazing, we did everything right for this win but I haven't been able to get all the training. So everything else was right just my run legs weren't.
"When I get tired my head just drops and my legs were just going. Congratulations to those top three girls, they really fought for that and they are well-deserved winners as well."
Fellow Brits Lucy Hall and Vicky Holland had contrasting fortunes, as the former sacrificed herself to assist Jenkins' medal chances as she finished 33rd, while Holland was caught up in a crash with Emma Moffatt on the bike stage which saw her finish off the pace in 26th.
"It was on the first lap around Buckingham Palace. I think it was one of the white lines that was still a bit wet from the rain this morning," said Holland.
"I saw Emma go down, then I think someone took out my bike wheel. From there on in it was a case of cruising around at the back and waiting for the run."