Himalayan Viagra Harvest Successfully Regulated by Local Tibetan Communities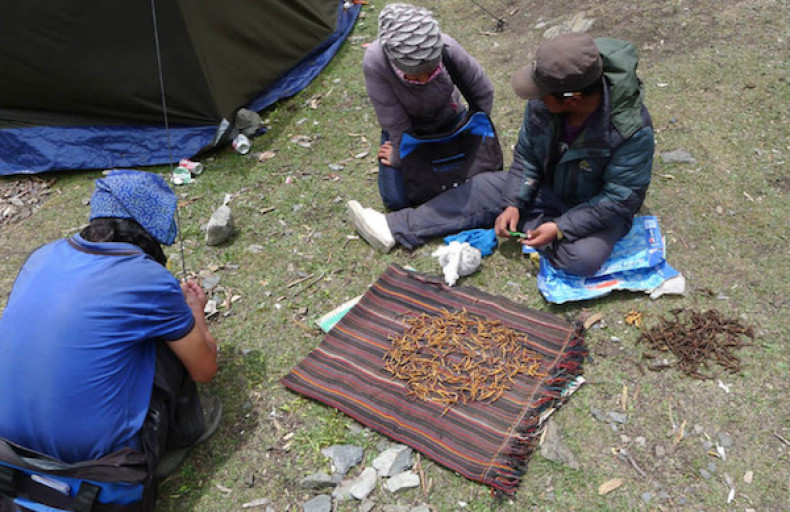 Two isolated Tibetan communities have implemented a successful system for sustainably harvesting the Himalayan Viagra, a medicinal fungus fetching big money in the Chinese market.
New research from Washington University in St Louis reports on the unique management plan to conserve the natural resource.
The fungus used as an aphrodisiac, yartsa gunbu (or 'summer grass, winter worm'; Ophiocordyceps sinensis) results from a fungal infection in ground-burrowing ghost moth caterpillars.
In early spring, pinkie-sized spores of the fungus emerge from the caterpillars' mummified bodies and pop up in remote grassland pastures across the Tibetan Plateau, says the press release.
Most villages in the region earn 80% of their annual income during the caterpillar fungus spring harvest season.
People of the Nubri and Tsum regions located high in the Himalayan foothills along Nepal's northern Gorkha District border with China's Tibet Autonomous Region (TAR) have been eking an existence from farming, grazing and odd jobs. Yartsu gunbu has changed that.
So much so that disputes between the communities and a national park staff on the right to collect fees from outsiders left two dead.
The communities have since evolved a management plan to harvest the fungus, writes Geoff Childs, associate professor of anthropology in Arts & Sciences and Washington University anthropology graduate student Namgyal Choedup in the journal Himalaya.
Prohibiting yartsa gunbu harvest on mountain slopes long considered sacred, restricting yartsa gunbu harvest to members of local households, penalties for harvesting the fungus outside of the season, daily roll calls to ensure no one is illegally harvesting and a small tax to finance the projects are among some of the plans drawn up.
Meanwhile, outside experts warn that over-harvest of the fungus could cause irreparable damage to fragile high-mountain pastures. Yartsa gunbu production has already declined by 40%, some believe.