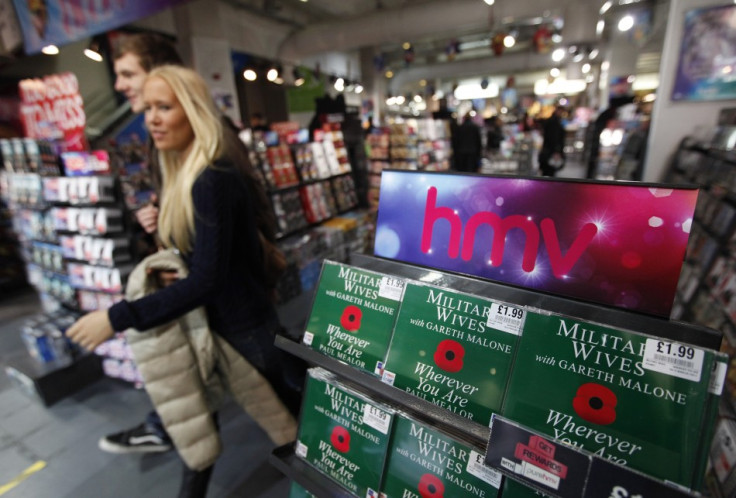 Entertainment retail company HMV felt the pinch of an austere Christmas as sales in the five weeks leading up to 31 December fell 8.2 percent.
The drop represented an improvement over the seven-week interim period leading to 17 December, which was down 13.2 percent compared to 2010.
Spokesmen blamed a weak video game market, which has seen companies struggle as more customers save money through the secondhand market.
"Highly competitive" pricing in the core categories of music and film saw the company maintain a "strong market share", it said. The Inbetweeners Movie became the company's biggest ever week-one DVD release, with more than a million copies sold.
The crop of Christmas comedy DVDs proved popular, with Peter Kay, Lee Evans and Sarah Millican leading the way. The top-selling TV series was BBC's Frozen Planet, while Michael Buble's Christmas album was the best musical performer.
More than 140 of the chain's stores traded from improved personal technology store departments, which saw a 51 percent growth in like-for-like sales. Around 500,000 pairs of headphones were sold in December, the equivalent of one every second.
The figures continue to show an uncertain future for the high street giant, which saw a 61 percent drop in its pro-forma profit to £28.9 million in the year ending April 2011, while total sales took a 7.4 percent tumble to £1.868 billion.
Nonetheless, chief executive Simon Fox remained optimistic and said the company was hopeful despite what will be a challenging year ahead.
"The continuing actions to focus the business and to expand our technology offering are beginning to show through," he said.
"We are seeing a combination of the slowing of the decline in music and film and acceleration in the growth of technology. Undoubtedly, trading conditions and the consumer environment remain challenging, but we remain confident in HMV's future prospects."