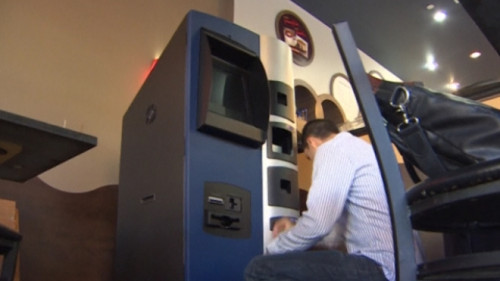 Robocoin that builds bitcoin ATMs is to make its debut in Hong Kong and Taiwan, having successfully launched the world's first ever bitcoin ATM in a coffee shop in Vancouver in October last year.
Technology blog TechCrunch reported that Robocoin is landing in the Asian countries in January as it plans to expand its reach across the globe. The company is planning further releases in Europe, Canada and the US, according to the blog.
Robocoin said its flagship ATM in Canada has exceeded C$1m ($940,000, £569,000, €685,000) in volume from 1,576 transactions on just its 29th day of operation.
Many Asian countries are seeking to enhance consumer capability to buy and sell bitcoin securely and safely - demand in Asia is amazing, according to Robocoin CEO Jordan Kelley.
Robocoin ATM's "provide individuals the easiest way to buy and sell bitcoin while simultaneously providing operators the most exciting business opportunity in all of bitcoin," Robocoin's Growth guru, Sam Glaser, told the blog.
Nevada-based Robocoin is a tech startup composed of four people, including Glaser and Kelley. Others are chief technology officer John Russell and developer Chris Yoder. The company sold more than 50 machines within the first 50 days of order placements, according to Glaser.
He noted that the ATMs have built-in security measures to prevent money laundering or cyber attacks.
"Robocoin was built from the ground up to be 100% compliant globally and secure. Our 3-step verification gives operators unprecedented visibility of their customers and Robocoin software provides incredible power to defend against money laundering," he said.
In addition, the servers used by the ATMs are not publicly accessible from the internet, minimising cyber attacks, he added.
Popularity and Concerns
Bitcoin, the peer-to-peer virtual currency, was launched in 2008 and is traded within a global network of computers. They can be transferred without going through banks or clearing houses, reducing fees involved in the services significantly.
The value of the virtual currency surpassed US$1,000 earlier, as more and more businesses and consumers used the currency to buy and sell products and services.
The currency is not backed by any government or companies.
Nevertheless, critics say bitcoins could be used for drug transactions, money-laundering and other illegal activities due to the near anonymity of those who deal in it.
China, the world's second-largest economy, earlier barred its banks from bitcoin transactions, noting that the virtual currency has no legal status. Subsequently, BTC China, the world's largest bitcoin exchange by transaction volume, has allegedly ceased trading in Chinese yuan.
The Reserve Bank of India warned citizens about the risks involved in virtual currencies like bitcoin. That resulted in the closing of the biggest bitcoin exchange in the country.
Furthermore, the European Banking Authority (EBA) has warned consumers about the risks of virtual currencies, saying they may be at risk of losing their money as the currency is not regulated.