'Hopefully November': Georges St-Pierre still interested in fighting Michael Bisping
The initial title fight between the two was called off by UFC president Dana White.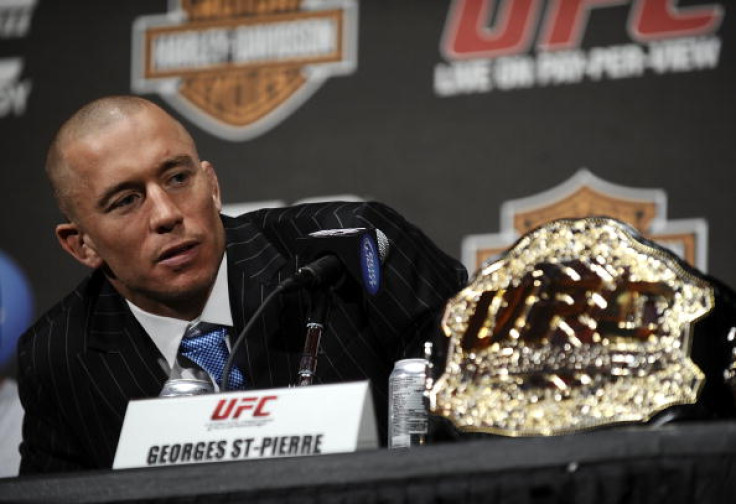 Georges St-Pierre is still interested in fighting Michael Bisping for the middleweight title.
The former welterweight champion returned to the UFC after over three years and was scheduled to face the Briton later in the year.
However, with the fight being announced in March and no further updates on a scheduled fight date, UFC president Dana White called the bout off in May, stating that they will not wait for St-Pierre who was expected to compete only after October.
White revealed that "GSP" would fight for the welterweight title instead when he was ready while Yoel Romero was expected to be next in line for a middleweight title shot.
But with Bisping nursing an injury, an interim title fight was created at UFC 213 earlier this month between the Cuban and Robert Whittaker, with the latter ending up victorious and getting a shot at the real title.
Another complication arose however as Whittaker suffered a knee injury during the fight and may not compete until 2018, leaving Bisping with no opponent. And so, the 38-year-old, who still insists on fighting the Canadian, invited St-Pierre on his podcast to ask if he was still interested in facing him.
"Yeah I can do it anytime, like I said multiple times, after October," St-Pierre said on the podcast.
"Sometimes in sports, unfortunately, the misfortune of people makes the good luck of others. That's what happened in this case: I had an injury, you had an injury, which created the opportunity for another guy but the other guy, Robert Whittaker, had bad luck so he had an injury which put us back into the initial situation that we are in so it's up to Dana White.
"I texted Dana and he knows that I want to fight you and hopefully if the boss wants, the fight will happen."
St-Pierre revealed that he was also frustrated when he learned the fight was called off as he had been putting on weight for the 185-pound limit but hopes that the long-awaited bout can finally happen in November.
"I was following a diet, I hired a dietician," he added. "I spent a lot of time, money and energy on this. That's why it was frustrating for me when I heard the fight was not going to happen."
"Because of his [Whittaker] misfortune, perhaps that's put us right back in the initial situation that we were supposed to fight each other. Which I hope will happen, hopefully, November."
© Copyright IBTimes 2023. All rights reserved.