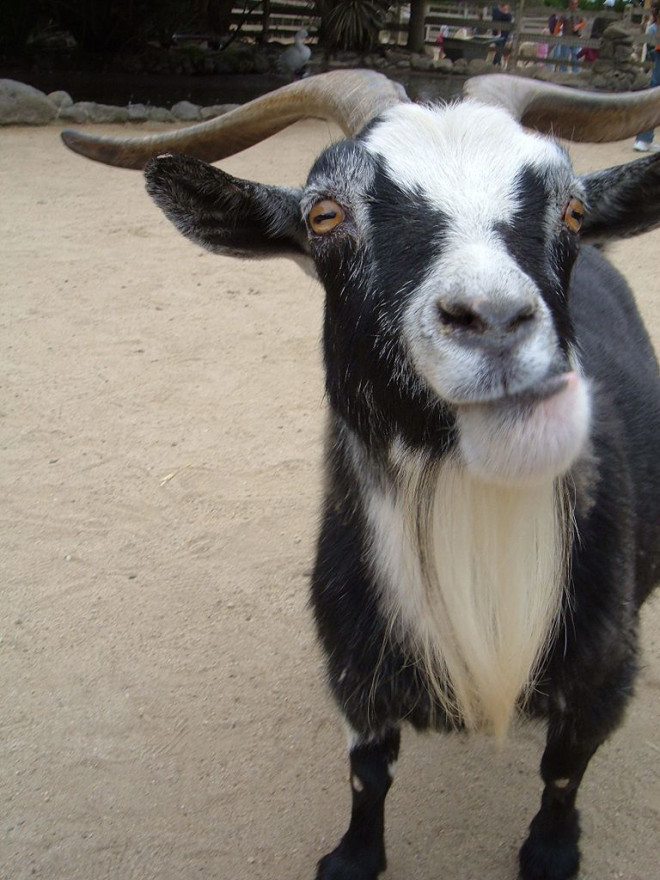 Male goats have a special scent they give off to literally turn females on, researchers have revealed.
Eau de male goat is the citrus scent male goats give off to turn on the reproductive systems of females on.
Published in the journal Current Biology, researchers from the University of Tokyo found how an ingredient in the scent acts on female goats brains to get ready to make babies.
Researchers found a pheromone called 4-ethyloctanal in the hair of males that has the power to activate a hormone pulse generator in the female brain, which governs the reproductive endocrine system.
"In 4-ethyloctanal, we identified a novel chemical that had never been demonstrated in nature before. This was our first surprise," Researcher Yukari Takeuchi said.
Researchers discovered the male goat pheromone they were studying was mainly synthesised in the skin on the head, so researchers collected the smell using a custom-made head cape. After a week, they collected the samples and compared them to the scents given off by castrated male goats.
Findings showed several chemicals specific to uncastrated males including 4-ethyloctanal. The team showed how the ingredient in the chemical influenced the female reproductive system by monitoring a key part of the goats' brains.
The researchers also believe their findings may apply to other livestock and possibly even humans, as the structure of the brain's reproductive centre is highly conserved in mammals.
Takeuchi said: "We are tempted to speculate that this is a clever reproductive strategy of the male goat to alter behaviour and activity of the reproduction centre in the female for mating by a single molecule."
Commenting on the study, Peter Brennan, a physiologist from the University of Bristol, told Nature magazine their findings are interesting and will be useful in husbandry of goats and other farm animals, but said he is unsure of how much can be attributed to pheromones alone.
"How much of this effect is innate and how much is learned?" he pondered.