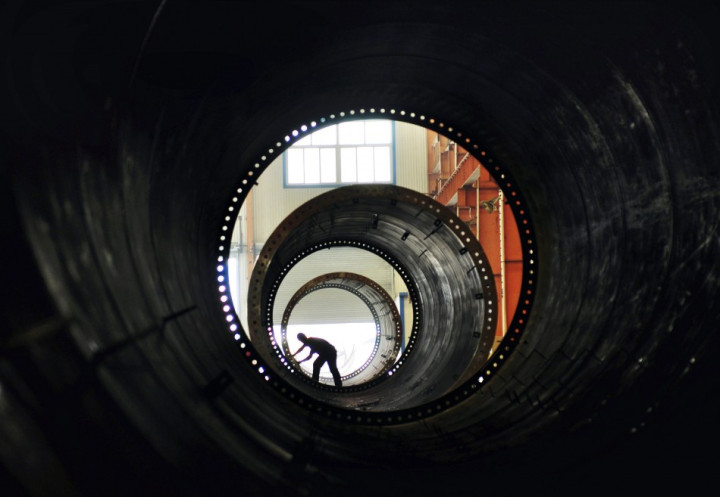 China's manufacturing sector contracted in May on lower domestic demand along with sluggish export orders, according to a private survey.
The HSBC China Manufacturing Purchasing Managers' Index (PMI) showed a final reading of 49.2 in May, down from 50.4 in April. The flash PMI for the month released on 23 May stood at 49.6.
A reading below 50 suggests a contraction in manufacturing activity across the nation, while a reading above indicates expansion.
"The downward revision of the final HSBC China Manufacturing PMI suggests a marginal weakening of manufacturing activities towards the end of May, thanks to deteriorating domestic demand conditions," HSBC's China chief economist Qu Hongbin said in a statement.
"With persisting external headwinds, Beijing needs to boost domestic demand to avoid a further deceleration of manufacturing output growth and its negative impact on the labour market. The new leaders should strike a delicate balance between reform and growth."
HSBC noted that total new orders declined for the first time since last September, indicating weak domestic demand. In addition, demand from abroad also weakened, with new export orders falling for the second month in a row. The decline in export orders was primarily due to reduced client demand, particularly in the US.
On 1 June, the official PMI released by China Federation of Logistics and Purchasing and the National Bureau of Statistics showed an unexpected rebound in manufacturing activity in May. The index rose to 50.8 from 50.6 in April.
The logistics federation collects data from 3,000 companies from 21 industry groups, while the HSBC survey is based on responses from purchasing managers at more than 420 businesses primarily in the private sector.
Amid weak domestic demand and crisis in key export markets, China's economy expanded 7.8% in 2012, the slowest pace in more than a decade. With a growth rate of 7.9% in the final quarter of 2012, the economy showed some resilience and economists had expected a steady recovery going forward.
However, China's hopes for recovery suffered a setback with the gross domestic product growth slowing to 7.7% in the first quarter. The country's leaders have said they are trying to revive consumer demand as the key growth driver of the economy rather than investments and exports. As part of the economic restructuring, the leaders expect a slowdown in growth from the near-double-digit yearly rises of recent decades.