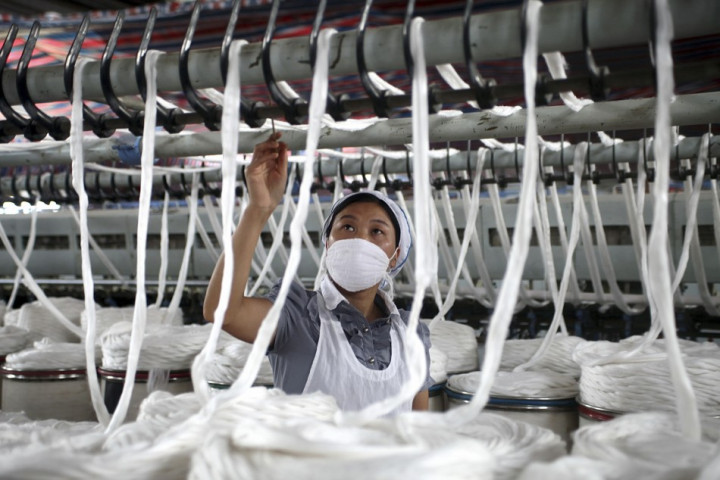 China's manufacturing has declined again, reaching at an 11-month low in July due to a significant decline in new orders, according to a preliminary survey of purchasing managers.
The flash purchasing managers' index (PMI), released by HSBC Holdings and Markit Economics, showed a reading of 47.7, lower than last month's 48.2. Economists projected an improved reading of 48.6 for July.
A reading below 50 indicates a contraction in the manufacturing sector.
"The lower reading of the July HSBC Flash China Manufacturing PMI suggests a continuous slowdown in manufacturing sectors thanks to weaker new orders and faster destocking," Hongbin Qu, HSBC's China chief economist said in a statement.
"This adds more pressure on the labour market. As Beijing has recently stressed to secure the minimum level of growth required to ensure stable employment, the flash PMI reinforces the need to introduce additional fine-tuning measures to stabilise growth."
Weak Sub-Indices
HSBC noted that its flash China manufacturing output index also declined to 48.2 in July from 48.6 in June, a nine-month low.
Other indices measuring new orders, new export orders, employment and backlogs of work all declined.
Fears of Further Slowdown in Economy
The weak manufacturing data comes amid fears of a slowdown in China's overall economy. The export and manufacturing sectors have been keys to the country's growth over recent decades.
The world's second-largest economy recorded a GDP growth rate of 7.5% in the second quarter, compared to the previous quarter's 7.7% expansion. The weak growth was attributed to declining industrial production and worsening export conditions. While industrial production grew 8.9% year-on-year in June compared to 9.2% in May, export orders fell by 3.1% in June compared to a 1% growth the previous month.
As export demand remains sluggish and authorities find it tough to boost domestic consumption, the economic growth is expected to slow down further, according to analysts.
"The fall in the index is in line with our view of growth momentum fading further in the coming quarters," said Nomura economist Zhiwei Zhang.