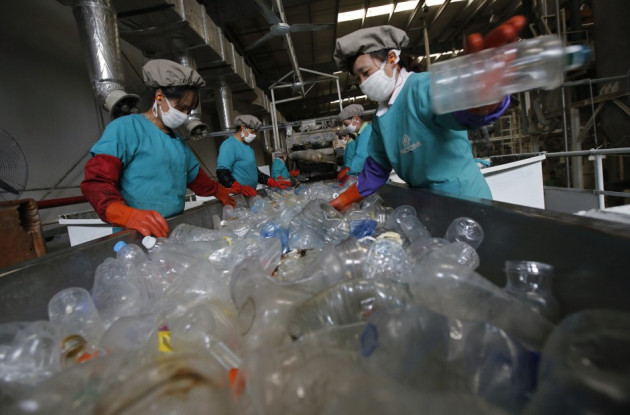 Contraction in China's manufacturing sector worsened in June amid fears that the country's growth would slow down further after a lacklustre performance in the first quarter.
The flash manufacturing purchasing managers' index (PMI) compiled by HSBC and Markit declined to a nine-month low at 48.3 in June from 49.2 in May. Economists estimated a PMI reading of 49.4 for the month. An index reading below 50 indicates contraction in the sector.
"The HSBC China Flash Manufacturing PMI dropped to a nine-month low of 48.3 in June, following on the sequential reduction in both production and demand," Hongbin Qu, China economist at HSBC, said in a statement.
"Manufacturing sectors are weighed down by deteriorating external demand, moderating domestic demand and rising destocking pressures."
In the HSBC survey, sub-indices measuring new orders, new export orders and employment declined at a faster pace, while a sub-index gauging output contracted, with reading falling to an eight-month low at 48.8 from 50.7 in May.
Amid weak domestic demand and crisis in key export markets, the world's second-largest economy expanded 7.8% in 2012, the slowest pace in more than a decade. With a growth rate of 7.9% in the final quarter of 2012, the economy showed some resilience and economists had expected a steady recovery going forward.
However, China's hopes for recovery suffered a setback with the gross domestic product growth slowing to 7.7% in the first quarter. Other economic data so far this year has disappointed analysts, who now expect the country to miss its 7.5% growth target for 2013.
Despite a slowdown in growth, the country refrained from cutting benchmark interest rates amid increasing property prices. China's seven-day repurchase rate, a gauge of interbank funding availability, reached the highest since May 2006 at 12%.
"Beijing prefers to use reforms rather than stimulus to sustain growth," Qu added.
"While reforms can boost long-term growth prospects, they will have a limited impact in the short term. As such we expect slightly weaker growth in 2Q."
The HSBC PMI, which the earliest available indicator of manufacturing sector operating conditions in China, is compiled based on approximately 85%-90% of total PMI survey responses each month.