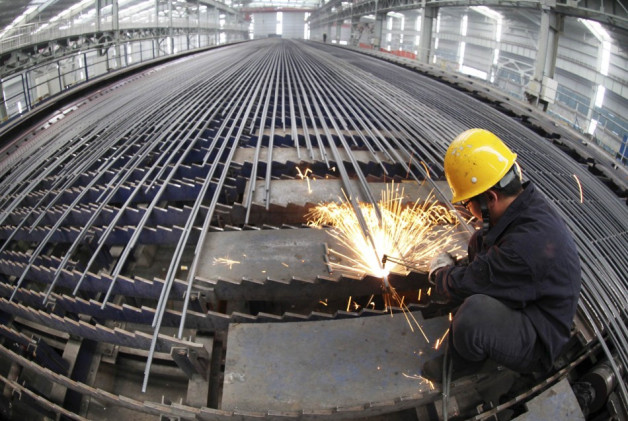 China's manufacturing output has expanded at a slower pace in April, according to a private survey, raising concerns of weakness in the world's second-largest economy.
The flash purchasing managers' index (PMI) compiled by HSBC Holdings and Markit Economics showed a preliminary reading of 50.5 for April, compared with a final reading of 51.6 in March. A reading above 50 indicates an expansion in manufacturing activity.
The preliminary reading that was a two-month low also fell short of economists' estimates of 51.5, according to Bloomberg.
"The HSBC Flash China Manufacturing PMI came in at a two-month low, but still managed to expand modestly in April, albeit at a much slower pace," Hongbin Qu, chief economist at HSBC, said in a statement.
"However, new export orders contracted after a temporary rebound in March, suggesting external demand for China's exporters remains weak."
Being China's first economic indicator for the second quarter, the HSBC report increased investors' concerns about the global growth prospects. The report follows a weaker-than-expected first-quarter gross domestic product (GDP) data reported earlier in April that prompted a sharp decline in global markets last week amid stock sell-off.
The economy has suffered from weak demand for exports, property-market overheating, an increase in shadow banking that is difficult to regulate and lower domestic consumption due to campaigns to rein in official perks. The death toll in the aftermath of an earthquake in the Sichuan area has increased to 192, and worries related to bird flu in Shanghai and Zhejiang remain in the country.
A sub-index measuring new export orders declined to 48.6 in April from 50.5 in March, indicating weaker global demand due to a fragile recovery in the US and the ongoing recession in Europe.
In the first quarter, China's economic growth slowed to 7.7 percent from 7.9 percent in the previous three months.
The country has set a 7.5 percent GDP growth target for 2013, and is expected to increase infrastructure investment to cushion the economy against global headwinds in line with the weak economic data. Nevertheless, a big stimulus package is unlikely as Beijing plans to deepen reforms and attain sustainable growth over a longer term.