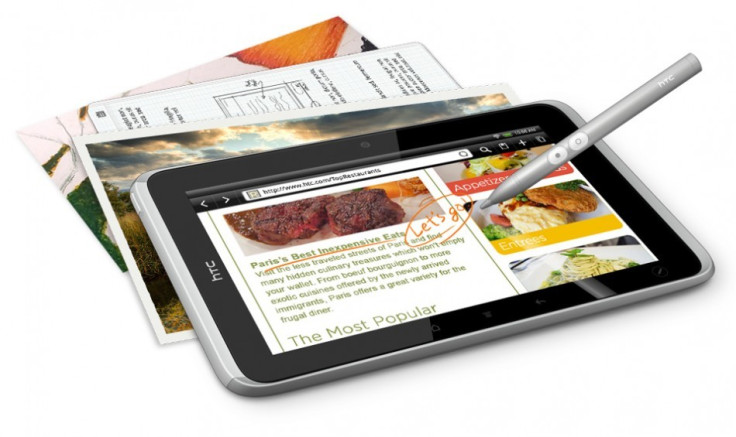 With rumours circulating that HTC is set to release a new "iPad 3-killing" tablet in the new year, the IBTimes takes you through the three key features we'd like changed to improve on its disappointing current Flyer tablet's design.

The Original Flyer
The company entered the tablet market in May when it released the Flyer.
Despite housing some nifty features, including its own stylus designed to work with its capacitive touchscreen, the Flyer received a tepid, mixed reaction by critics and consumers.
The chief criticisms were poor battery life, a slightly slower than is to be expected 1.5GHz single core processor, non-suited Android operating system and steep £600 opening price tag -- for the 32G version.
Ice Cream Sandwich Flavoured Goodness
The original Flyer's OS was a big concern when it was first released. HTC didn't run the device off the more tablet-friendly Android software, 3.0 Honeycomb, instead choosing to use a tweaked version of Android 2.3 Gingerbread.
Despite having some pretty nice design features, the OS was generally criticised. The general complaint against the Flyer's OS was the fact that the apps and several of the features were still optimised for use on a smartphone.
HTC's failure to tailor the features for use on a tablet led to numerous complaints by consumers and critics that services like Gmail looked stretched and unsuited to the Flyer's seven-inch screen.
Luckily for tech fans, since rumours of a new HTC tablet emerged, Google unveiled its new Ice Cream Sandwich OS.
The new frost-themed Android version was unveiled in October alongside Samsung's flagship Galaxy Nexus smartphone. Along with several under-the-hood upgrades, the new OS version houses a reworked interface and a slew of new features, many of which are promised to work, properly, on tablets.
For a full look at Ice Cream Sandwich's new features, check out the IBTimes' opening impressions.

A Better Battery and Processor
Another key disappointment in the Flyer was its semi-reasonable 1.5 GHz single-core processor and absolutely atrocious battery life.
While the 1.5 GHz processor was fine for most tasks, we'd like to see the device get a dual-core upgrade.
As to battery, the Flyer's abysmal battery life was one of its biggest drawbacks. The original Flyer at best would last a day with even moderate use. In HTC's next attempt we'd like to see a battery on at least a par with Apple's current iPad 2.
A More Affordable RRP
Third and most importantly -- given that a journalist's stipend doesn't got too far these days -- we'd like to see a reduction in the new tablet's price from the original Flyer's.
When it launched, the Flyer held an incredibly high £600 price-tag for the 32GB version and £480 for the 16GB.
Considering the 32GB version of Apple's infinitely superior iPad 2 currently retails for around the £460 mark, we'd definitely like to see HTC re-think the new tablet's price.
Unfortunately, it may take a while before we find out whether HTC has taken notice of our humble requests. When asked about the authenticity of the latest slew of tablet rumours, HTC responded stating, "HTC doesn't comment on rumour or speculation."
In any case, keep watching the IBTimes, the number one stop for tech hearsay and gossip about devices even the companies themselves don't know they're making yet.