Venezuela's late president Hugo Chavez died in Cuba, not in Caracas, and Venezuelans mourned an empty coffin during the seven-hour funeral procession, according to Spanish website ABC.
Quoting unnamed military sources, the conservative newspaper - the third largest in Spain - claims that the president's body was secretly transported from Cuba to a chapel in Fuerte Tiuna, where the military academy is based.
The claims were made as the funeral, attended by world leaders, was taking place in Caracas.
The deception had a propaganda purpose, according to these sources - the Venezuelan government needed to hastily arrange a funeral procession, to show the weight of support for Chavez and his party, but could not risk the real coffin being damaged.
"They wanted to show that there are a lot of people with a clear political interest, allowing people to even touch the coffin, the fake one, without compromising the physical integrity of the real one," said the source.
According to ABC, Chavez died on Tuesday in Havana and his body was then transported to the aerial base of Generalisimo Francisco de Miranda in Caracas. Once there, the corpse was examined by the pathologists and dressed in military uniform. On Wednesday, the body was kept in the underground base of the military academy.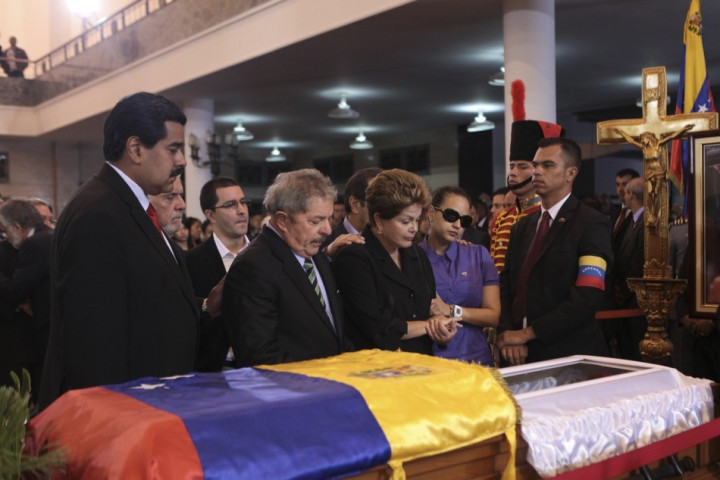 After the public procession, officials allegedly swapped the fake coffin with the real one before the formal exhibition of the body.
Scores of leaders from Latin American countries and other parts of the world attended Chavez's funeral. Iranian president Mahmoud Ahmadinejad and Cuban president Raul Castro were among more than 30 heads of state who were present.
After the ceremony, Chavez's body will be taken to a military museum.
Vice-president Nicolas Maduro said ealier in a state television address that Chavez's body would be embalmed and kept on permanent display much like communist leaders Lenin and Stalin.
More than two million supporters of Chavez have already paid their tributes to the socialist leader at the military academy.