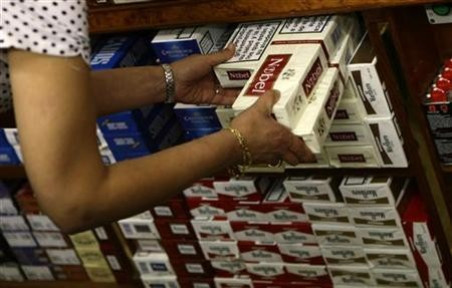 Imperial Tobacco said it will see slower profit growth in the first half of its financial year as key European and Russian markets continue to struggle against black market competition.
Sales performance in Europe was hit by a broader market decline that Imperial said was linked to the rise in illicit tobacco trade and a tough economic environment. The world's fourth biggest cigarette marker also said market growth in Russia was hit by weaker demand despite investments in key brands including Davidoff, Gauloises and West. It also reported market share pressures in the UK and the United States.
"The growth momentum in key markets in Africa and the Middle East and Asia-Pacific is being offset by the current adverse market dynamics in Europe, with increasing levels of illicit trade," said CEO Alison Cooper. "This reinforces the importance of our two focus areas for 2013: further investing behind our key total tobacco assets and geographies; and accelerating our cost optimisation programme, providing funds for investment and mitigation for the full year given the current European environment."
Net tobacco revenue rose 2 percent over the three months ending in December, its fiscal first quarter, the company said in a statement published on its website. Key brand volume growth was measured at 10 percent and matched against a 12 percent rise in net revenues. The group's fine cut tobacco net revenue grew 9 percent while volumes also expanded at a 9 percent pace. Premium cigar revenues were stable against a 3 percent rise in volumes.
"Market trends have worsened in a number of key markets including in the EU and Russia," Imperial said."In the EU we estimate that the legal stick equivalent market size is currently down around 5 percent with the legal cigarette market size down around 7 percent."
Russia, the world's second largest cigarette market, will institute a public ban on smoking that is set to begin in the middle of next year. Last week, lawmakers approved a slighlty water-down version of the restrictions but maintained the right to introduce minimum cigarette pricing. Imperial's market share in Russia is around 9.3 percent, according to the group's latest earnings statement.
Imperial Tobacco shares fell more than 4.4 percent in London trading to 2,356.4 pence each, trimming the one-year advance to 3.2 percent.