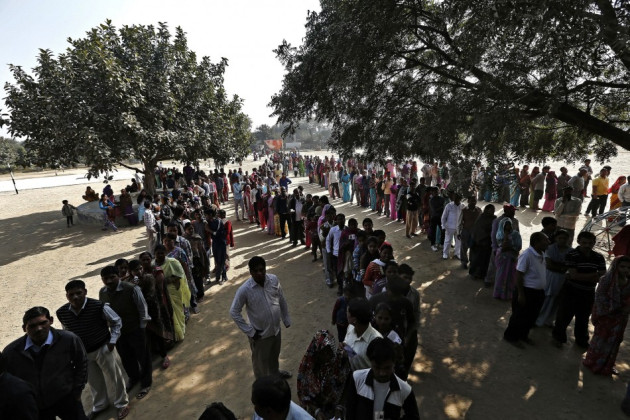 The Congress party, which leads a coalition that is ruling India, is heading for a massive defeat in most of the five states, including the capital New Delhi, which held elections recently.
Political analysts say the results signal the doom of the Congress when the whole of India holds its parliamentary election by the middle of next year.
If the present trends hold good, the right-wing BJP, which is seen as more business-friendly, could edge out the Congress to stake its claim to power.
The BJP's prime ministerial candidate, Narendra Modi, who led the party's high-decibel campaign in the state elections, could also see his hands being strengthened. But some analysts say the Congress brought it upon itself.
The state election results also herald the arrival of the Aam Aadmi Party [AAP] which is fighting on the plank of anti-corruption and transparent governance.
Results are being announced for the states of Rajasthan, Madhya Pradesh, Chhattisgarh and the National Capital Territory (NPR) of Delhi.
Sheila Dikshit, who has been the Delhi chief minister for three consecutive terms, is trailing in her constituency. The Congress has been pushed to the third place in Delhi.
Corruption and Mismanagement
In other states too, the party is taking a beating. Besides anti-incumbency factory, the Congress defeat is being attributed to rampant corruption and poor economic management of the country.
Although a Congress rout was widely predicted, it is the emergence of the AAP that could alter the political landscape of India, analysts feel.
The two main parties - the Congress and the BJP - one centrist and the other right wing - have so far shared the spoils in India.
The AAP, headed by social activist Arvind Kejriwal, has fared well in Delhi and is likely to secure anywhere between 25 and 30 seats out of 70. That may not put it in power, but its performance is considered stunning.
The BJP is leading in most of the states except in Chhattisgarh, the only state where the Congress is performing reasonably well, ahead in 44 out of 45 seats.
"The Congress has been decimated because of their misdeeds, scams, inflation," BJP's Delhi chief ministerial candidate Harsh Vardhan told NDTV. He also expressed confidence of forming the government in Delhi.
It is still unclear whether there will be a clear result in Delhi as it might lead to a hung assembly if no party has a majority on its own steam.
"This is not about the BJP or Congress. It is about the people's issues. We have gone to people with the real issues of the people," said AAP member Shazia IImi.