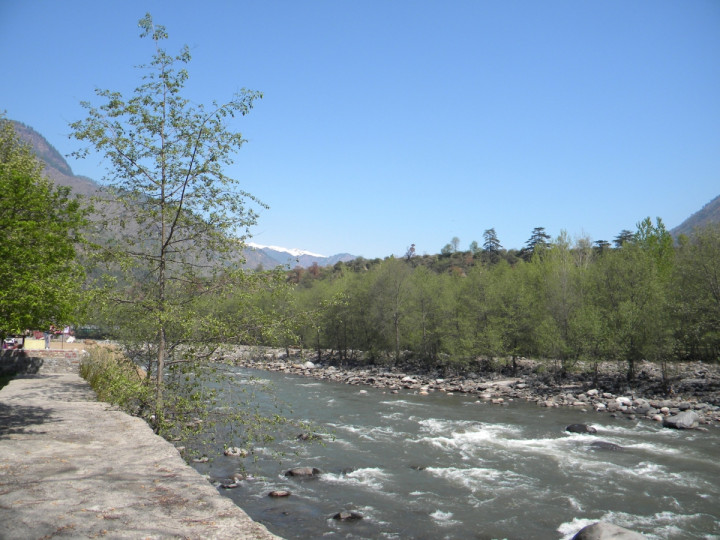 Authorities have recovered five bodies, including those of two girls, while 19 others remain missing after they were washed away in the mighty Beas river in the popular tourist destination of Manali, Himachal Pradesh, in north India.
The tragedy occurred when the students, who were taking pictures of themselves standing on the river's edge, were swept away by a massive surge of water after the floodgates of the reservoir were opened.
Most of the victims were engineering students from the south Indian city of Hyderabad who were on an excursion.
A staff member and a tourist guide are also unaccounted for.
Rescue measures are under way to find the missing students, but the chances of finding them alive are considered bleak because of strong currents and silt. One of the bodies was found 20kms downstream.
Troops, divers and other security personnel have been drafted in to comb the river.
"I tried calling out to my friends... but couldn't. They also saw the water level rising, I tried helping a few of them, but in a span of six seconds, the water level rose to five or six feet in front of my eyes, they drowned," Ravi Kumar, one of the students who escaped the tragedy, told NDTV.
"Spoke to Minister of Education Himachal Pradesh Shri Bali re [SIC] the tragic incident of 24 engineering students feared washed away near Mandi," tweeted Union Human Resources and Development Minister Smriti Irani.
Locals are furious that there was no warning prior to the release of the water, but authorities say the siren went off before it was released.
A case of negligence has been registered.